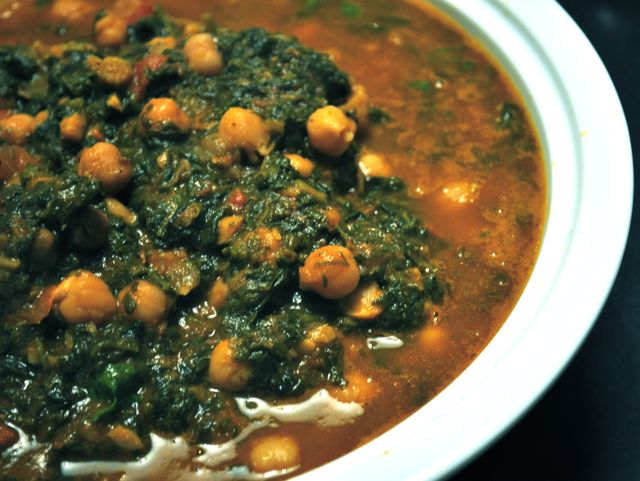 There are lots of people who seem to love hating Rachel Ray and Sandra Lee types.  But isn't a 30 Minute Meal or one that's Semi-Homemade better than takeout?  I'm not talking about the type of fast and easy processed foods that got Ruhlman riled up.  I'm talking about cutting some "traditional" corners while still using fresh, healthy ingredients.
So here's my confession.  When I make spinach, I usually make it "the way you are supposed to."  I puree it to a smooth, creamy consistency and then add it to a masala that has been lovingly and carefully made.
I won't stop making it that way.  But I did discover an easier way to create a satisfying spinach curry.  And it allows me to feed my family a fresh, healthy, Indian meal in a pinch.  And – well – that it's quick and easy too is really okay…in my book.
Update:
After I published this post, I realized that when writing recipes and breaking them out into easy to follow steps, they sometimes look more complicated than they in fact are – and this recipe is SO easy, that I don't want to overcomplicate. So here's the summary of how to make it: Cook spinach. Remove. Fry cumin seeds. Add chickpeas, spices, salt, tomato paste, canned tomatoes and water. Cook for 10 minutes. Add spinach. Eat.
Spinach and Chickpeas – Channa Saag
~8 servings
Adapted from The Three Sisters Indian Cookbook
4 bundles spinach, washed leaves
1/2 teaspoon cumin seeds
1 28 ounce can of chickpeas
1 teaspoon dry ginger powder
1 1/2 teaspoon coriander powder
1 teaspoon fennel
1/2 teaspoon cumin powder
1 teaspoon chili powder
3/4 teaspoon garam masala
2 tablespoon tomato puree
1 28 ounce can stewed/diced tomatoes
Salt to taste
1. Heat 1 tablespoon of olive oil in a tall stockpot. Add the spinach leaves and 1/2 teaspoon salt. Cook for about 5 minutes breaking down the spinach leaves until wilted and pulped but some liquid remains. Remove to a separate bowl.
2. Heat 1 more tablespoon of olive oil in the same stockpot. Add the cumin seeds and fry for 1-2 minutes until they sizzle.  Add the chickpeas and 2 teaspoons salt.
3. Remove from heat and add the ground spices.
4. Return to heat and mix in the tomato puree and canned tomatoes. Cook for 1-2 minutes and then add 3 cups water. Cover and cook for about 10 minutes.
5. Add the spinach with its liquid and cook for another 5-10 minutes on low heat.
6. Taste and adjust salt and chili as needed. Serve hot with naan, raita and rice.