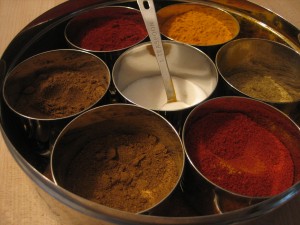 This is my masala dhaba which I keep within arm's reach of my stove.  It has paprika, coriander powder, cumin powder, garam masala, chili powder, turmeric and salt. 
Amchur Powder – dried mango powder which gives food a tangy, sour taste.
Chaat Masala – usually a mix of amchur powder, cumin, kala namak, coriander powder, dried ginger, salt, black pepper, hing and red pepper – gives dishes a tangy flavor.  This tastes good sprinkled on fruit (i.e. fruit chaat), mixed into a salted lassi or used in raita.
Garam Masala – a spice mix of cinnamon, cumin seeds, coriander seeds, cardamom seeds, black peppercorns, cloves and nutmeg.  I would call this a North Indian all spice of sorts. 
Hing – asafoetida.  Gives off a sharp taste and has a pungent smell.  I'll have to think about how to better describe this flavor.  You never need more than just a pinch of hing.
Kala Namak – black salt although it actually looks more pink.  This is a form of rock salt and tastes good sprinkled over fruits.  It has a tangy, sour taste. 
Lal Mirch/Red Chili Powder – this is a common Indian spice made of dried red chilis. 
Paprika – Kalustyan's lists nearly 17 different varieties of paprika – none of which are the type I use (!) though, I'm certain they must stock it in the store).  I use plain, unspiced paprika for giving a red color to curries – tip of my MIL.  My dad also uses it in making Indian pickles.  Of course, there are many delicious recipes out there for the other, flavored varieties of paprika.
Saffron – very expensive because it's really hard to grow and gather.  The upside is that just a few strands of saffron pack a lot of flavor.  It gives off a slightly bitter taste and a yellow color.
Sambar Powder – there are many different varieties of sambar powder.  Common ingredients are dried red chilis, coriander seeds, cumin seeds, fenugreek seeds, black pepper, mustard seeds, curry leaves, chana dhal, tool dal, mustard seeds and turmeric.  Read about the many uses of sambar here.
Tikka Masala Powder – red chili, coriander, onion, cardamom, turmeric, star anise, cinnamon, cumin, black pepper, mace, nutmeg, garlic, giner, clove and citric acid.  I bought my tikka masala powder from Kalustyan's but Badshah brand is a good one too and readily available in most Indian grocery stores (Note: Badshah tends to be reliable for all packages spice mixes.)
Turmeric (Haldi) – known to have many medicinal properties and gives dishes a yellow coloring. 
Vindaloo Powder – blend of cumin powder, coriander powder, black pepper powder, cinnamon powder, clove powder, cardamom powder, ginger powder, nutmeg powder, turmeric powder and chili powder.  I bought my vindaloo powder from Kalustyan's but would also recommend Badshah brand, which is readily available in most Indian grocery stores.
More to come!