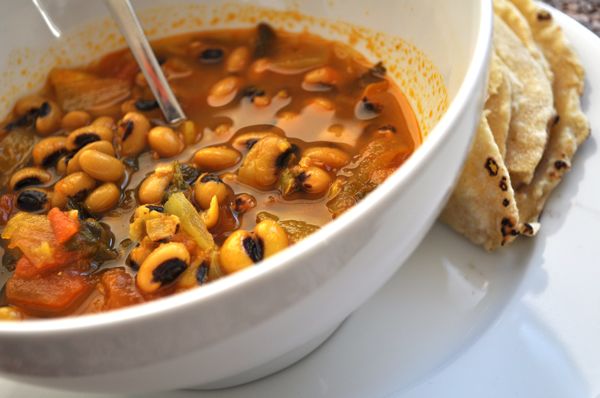 I just cleaned out my pantry.  It was a toss up between catching a nap with Surya or cleaning the pantry.  But this article from The Kitchn.com inspired me.  Or scared me.  So, no napping.  Cleaning.  As for the items that survived, I resolved to start working my way through them one at a time.
First up, some beautiful dried black eyed peas.  Smooth tan exteriors with symmetrical black moons.  Nutty, soft white insides.  Low in fat and sodium, no cholesterol, high in potassium, iron and fiber and protein.  And a creamy addition to Indian food to boot.  How could I let these go to waste?
I wanted something quicker and lighter than this creamy Black Eyed Peas and Potato curry.  A few hundred Hoppin' John recipes later, I came across this post from Smitten Kitchen and a link to this Black Eyed Peas in Spicy Goan Curry in the San Francisco Chronicle.  Spicy enough to satisfy my Indian hankering but light and fresh enough to not overwhelm on a hot day like the ones we've  been having in New York.
Spicy Black Eyed Peas
~About 8 servings~
~Adapted from Ruta Kahata~
I left out the coconut milk from Ruta's recipe because I wanted a lighter, tomato-y broth.  We didn't miss the coconut milk, but if you want to add it in, Ruta's recipe calls for it after 6 below followed by an additional 8-10 minutes of uncovered simmering.  The recipe calls for a touch of sugar, but you can't taste any sweetness in the end.  I imagine it just enhances the light, naturally sweet and tangy tomato broth.
1 cup dried black-eyed peas or two 15-ounce cans, drained
1/2 teaspoon coriander powder
1/2 teaspoon grated garlic (about 1 large clove)
1/2 teaspoon grated ginger (about a 1-inch piece)
1/2 teaspoon ground turmeric
1/2 teaspoon cayenne
1/2 teaspoon cumin powder
1 tomato, finely chopped
2 cups (or 1 cup if using canned peas) hot water
Salt to taste (I used about 1 teaspoon)
1/2 teaspoon sugar
Handful cilantro leaves, chopped
1 tablespoon lemon juice
1. If using dried black eyed peas, rinse and soak them overnight in enough water to cover.
2. In a stock pot or deep saucepan, heat cooking oil over medium heat.  Add the onions and cook for about 8-10 minutes until the onions brown.
3. Add the coriander powder, garlic, ginger, turmeric, cayenne and cumin powder and cook for 2-3 minutes.
4. Add the tomatoes and cook until they melt.
5. Mix in the peas.  Add the water, sugar, salt and cilantro and bring to a boil.
6. After you've brought the curry to a boil, cover and reduce the heat to low. Simmer for 30-40 minutes until the peas are tender (not falling apart).  Ruta recommends simmering dried peas for 20 minutes (I found it required more time) and canned peas for 10 minutes).
7. Add the lemon juice and simmer for another minute or so.
Serve with roti or basmati rice.
My pantry cleaning also left me with a a "few" other things…I could use some help figuring out how to use them up:
King Arthur Unbleached Whole Wheat Flour – just used some to make these addictive chewy chocolate chip cookies
Poha, flattened rice – any ideas other than Aloo Poha (love it but wondering what else you can do with it)
Moong daal skinned and whole*
Moong daal unskinned and split*
Moong daal unskinned and whole*
Suji (semolina) – I normally use this for upama but other use would be great!
Any suggestions?
*My rat pack approach to pantry stocking is not to blame for the many varieties of moong beans. I think my mom bought all of them while I was in a post-partum fog.