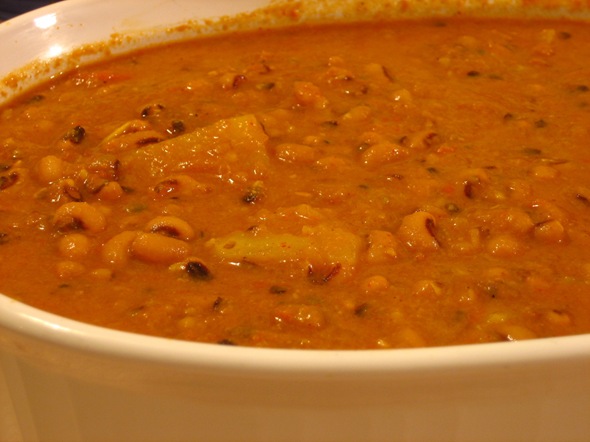 For the longest time, black-eyed peas were filed away in the gray matter of my brain as a high school cafeteria side dish likely to be flavored with ham hocks.  I might have been confusing them with pinto beans for years.  I finally learned how tasty they are after trying Guru the Caterer's black-eyed peas with aloo sabji.  For those of you have the good fortune of living near Guru in Somerville, MA, you can read more about the "lunch boxes" served at this take way Indian joint here and you can read the many rave reviews Guru receives on Yelp here.  If you see my brother and his wife there, say hi for me!  [He and his wife have what could possibly be called an addiction to Guru…but who can blame them?  Guru (though that's not really the owner's name) makes healthy vegetarian (though it's not all vegetarian) Indian food, changes the menu daily and even uses separate utensils for the vegetarian dishes.] 
So I decided to make use of the bag of dried black-eyeds that Guru inspired me buy and recreated my own Black-eyed Peas and Aloo Sabji.  Black-eyed peas have a velvety, if even creamy, mild taste and soft texture.  As if that's not enough, they are loaded with, among other nutrients, protein, potassium and fiber. 
Black-eyed Peas and Aloo Sabji
Grocery:
1 onion, quartered
3 cloves garlic, peeled
3 tomatoes, quartered
2 green chilis
3 potatoes, peeled and quartered
2 cups dry black-eyed peas (you could substitute canned black-eyed peas)
Masala Rack:
1/2-1/4 tspn. garam masala
1-1/2 tspn. lal mirch (red chili powder)
1  1/2tspn. cumin powder
1 1/2 tspn. coriander powder
1/2 tspn. turmeric powder
1 tpsn. paprika (for color)
2-3 tspn. salt
Staples:
1 cup yogurt, whisked
Cilantro for garnish
Soak and rinse black-eyed peas for at least 1 hour and then pressure cook (time will vary depending on the type of pressure cooker you have).  Set aside.  Finely chop garlic and onion pieces in food processor.  Heat about 1 tbsp. of oil in a stockpot and then cook onions/garlic on medium heat until translucent.  While the onions/garlic cook, puree the tomatoes in the food processor along with the green chilis.  Add to the onions/garlic mixture.  Continue cooking on medium until the water from the tomatoes starts to disappear.  Add all of the masalas and the yogurt and continue cooking until the masala mixture has a thick consistency.  Add ~3-4 cups of water, potato pieces and black-eyed peas.  Cover and bring to a boil until potatoes are cooked (about 25-30 minutes).  Using a flat wooden spoon, press some of the black-eyed peas and potatoes against the side of the stock pot to thicken the consistency of the sabji a little.  Garnish with cilantro.  Serve ladled over basmati rice or with rotis.