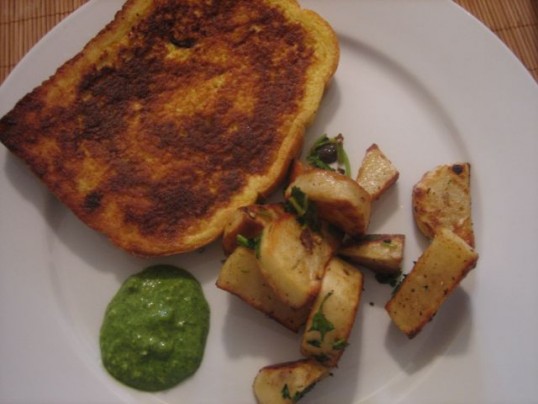 One weekend during our first year of marriage, Rajat and I both decided we were craving french toast.  Wanting to be a good wife, I whipped some up with moves I had seen my mom use to make french toast – splash of vanilla here, pinch of cinnamon there, a dash of nutmeg.  To my horror, Rajat took my soft, golden french toast and dunked it in a pool of ketchup (although, he dunks almost all breakfast food in ketchup…eww).  Then I noticed he was curiously watching me drizzle syrup over my toast.  As we took our first bites, it became clear we should have been more specific when talking about our craving for "french toast."
The french toast I grew up on is more sweet than savory.  Rajat's version of french toast is savory and not sweet at all, and he made it for me last weekend.  My review is a little skewed since it's been about two and a half years since I've eaten eggs straight up like this, so I should note that I was simultaneously getting over egg heebeejeebees.  This desi style french toast was definitely a tasty departure from sweet french toast and will reappear in our brunch rotation.  
Rajat's French Toast – Desi Style
~makes about 8~
Grocery:
4 eggs
Milk
Masala Rack:
Salt (about half a teaspoon)
Sprinkle of black pepper
Sprinkle of lal mirch (chili powder)
Pinch of garam masala
Staples:
Sliced bread
Ketchup or Maggie's Tomato Sauce 
Preparing the egg batter:

1. Crack the eggs into a medium sized mixing bowl and whisk until the yolks are blended with the whites.
2. Stir in the salt, pepper and lal mirch.
3. Add just a splash of milk and mix well.
4. Heat a skillet on medium high.  Lightly oil the pan or drop a pat of butter/fake butter into the center of the skillet.
5. Dip a piece of bread into the egg batter until it is well coated on each side.
6. Place the bread in the center of the hot skillet and grill until golden.  Flip and repeat.
7. Repeat for the other slices.  You may need to re-oil/butter the skillet between pieces of french toast.
Rajat's other suggestion for desi style French Toast is to add freshly cut cilantro to the egg batter.
We've been wanting to make aloo chaat for awhile now, so we made aloo chaat style breakfast potatoes that you see in the picture above. They were mouth wateringly delicious – tangy and salty with a slightly spicy kick and roasted to perfect tenderness. These are my new favorite breakfast potatoes and top even these!