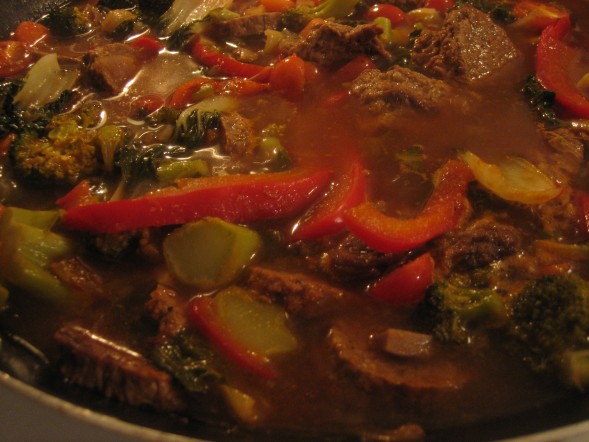 We like it saucy (no R rated pun intended – that sounds dirty right?).  This stir-fry started off as an experiment.  It was so delicious that everytime we made stir-fry, Rajat would ask me to "make it in 'that' sauce." Kitchen experiments are fabulous unless you forget to write down what you did because recreating a taste logged in your memory as "off the charts" is near impossible. [Disclaimer: that's not meat in the picture. It's vegetarian black pepper steak made from soy.]
After lots of re-experimenting, I finally recreated the sauce.  It's quick to make and uses ingredients common to find in your pantry – vegetable stock, ketchup, tamari or soy sauce, rice wine vinegar, chili-garlic hot sauce (or your favorite asian hot sauce) and garlic-ginger paste (or fresh garlic and ginger).
10 Minute Stir-Fry Sauce
Grocery:
3 tablespoons tamari sauce or soy sauce
2 tablespoons rice wine vinegar
1-2 tablespoons chili-garlic hot sauce
2 tablespoons ginger-garlic paste (or 3 cloves minced garlic and 1 small piece ginger minced)
3-4 tablespoon ketchup
Making the Sauce:
1. Bring 6 cups of water to a boil.
2. Add 2 vegetable bouillon cubes. 
3. After the cubes dissolve, add 3 tablespoons tamari or soy sauce, 2 tablespoons rice wine vinegar, 1 tablespoon chili-garlic sauce, 2 teaspoons ginger-garlic paste and 3-4 tablespoons ketchup.
4. Cook on medium heat and bring to a boil.
This sauce has lots of possibilities, and we've only scratched the surface.  We topped off fresh Basmati rice with a saucy stir-fry of button mushrooms, baby bok choy, red bellpeppers, onions, broccoli, cherry tomatoes and vegetarian black pepper steak from May-Wah.  This sauce would also be delicious ladled over soba noodles for a noodle soup.  There's so much taste that it could even stand alone as a soup with a handful of tofu and greens tossed in.  
I've been using Rapunzil cubes (it's vegan and I like the no salt added type) since reading about it on 101 Cookbooks.  You don't have to use that brand, but after trying a few different varieties, Rapunzil's has the most flavor, is vegan (meaning no mysterious "natural flavors") and low in sodium.  Also, some of you may wonder if rice wine vinegar is really common to have – I started keeping it on hand because it's a very common ingredient for stir-fry sauces and used for sushi rice and use it pretty frequently. 
Feel free to leave a comment letting me know if you have your own take on this simple stir-fry sauce or any other ideas for easy stir-fry sauces and additions.