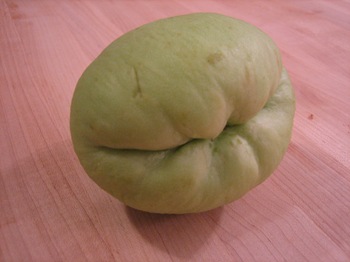 Chayote squash is a curious little vegetable.  It's slightly intimidating with its odd pursed seam along one edge making it look like a cartoonish venus fly trap or the Grinch's balled up fist.  When you peel it, it lets off heavy beads of sweat and gets slippery.  The juice dries on your hands making them tighten up like you've had a paraffin treatment, no matter how hard you scrub your hands.
Move past all of this, however, and you'll find that chayote squash is a delicious vegetable.  It's light and airy with a pleasant sweet aftertaste bringing to bear the fresh crispness of fall.  The combination of the sweetness coupled with the heat of the masalas makes you appreciate this vegetable despite all of its oddities in appearance.  My mom taught me two ways to prepare chayota squash.  Tonight, I made it as a kura (~dry stir fry) which seemed less time consuming than making kootu (~wet curry).
Grocery:
3 fresh chayote squashes, peeled and cubed
Masala Rack:
1/4 tspn. mustard seeds
1/4 tspn. cumin seeds
1/2 tspn. sambar powder
2-3 dried, red chilis
1-2 tspn. salt or to taste
1 tbspn. urad dhal
1 tbspn. chana dhal
4-5 curry leaves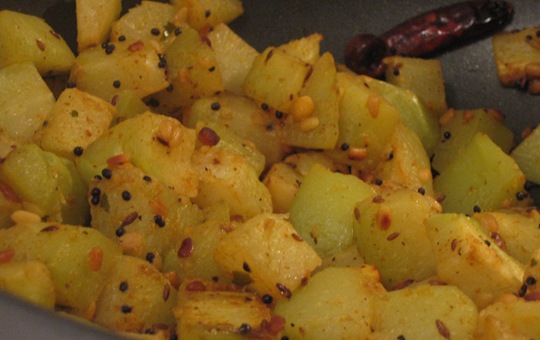 Heat oil in a skillet and pop the mustard seeds and cumin seeds.  Add the curry leaves, red chilis, urad dhal and chana dhal and cook them for a few minutes on med-high heat until the chana dhal starts to brown (being careful to not let it blacken).  Add the cubed chayote squash then salt and sambar powder.  Mix well.  Cover and let the chayote squash, stirring occasionally but not too often – you want the steam to stay in and cook the chayote squash.  Cook covered for about 20 minutes on medium or until the chayote squash looks slightly translucent and softens. This kura goes well with chapatis or rice and yogurt.  Including prep time, this takes about 35 minutes.
~ The Many Uses of Sambar Powder ~
I'd like to put in a plug for the many wonderful uses of sambar powder.  My dad (the main chef in my house growing up) taught me that sambar powder can be used for so much more than just making sambar.  Whereas my mom will roast five different dhals and then spend time grinding it with masalas and chilis before adding it to a vegetable, my dad will just substitute sambar powder (and if you don't watch him closely, a little bit of coconut too).  You can sprinkle sambar powder on potatoes, eggplant, beans – almost anything.  It instantly adds a savory, spicey heat plus loads of flavor without much, if any, effort.  Right now, I'm using a freshly ground sambar powder that I bought from the Ganesh Temple canteen in Flushing, NY (a beautiful temple with the added benefit of having a canteen that serves some of the softest, most delicious dahi vadas ever), which happens to be pretty spicy so I use it sparingly.  A good store bought option is MTR brand.