About Me and Hungry Desi
Hi and welcome to Hungry Desi.  Hungry Desi is written by me, Nithya.  I'm the General Counsel at AppNexus in New York. Briefly: When I'm not lawyering, I love to cook. I love to eat. And I love sharing stories about what I cook and eat with others.
I live in Brooklyn, New York Hoboken, New Jersey with my husband my husband and our daughter.  My husband and I are both lifelong vegetarians who grew up in the U.S. with Indian parents.  So our palettes and my cooking are largely influenced by Indian spices and flavors.
In my effort to be brief, I won't take up time telling you how our vacations center around eating, that cooking after a hectic day is my way of relaxing, that grocery shopping is an exercise in curious excitement for me, that I plan dinner before breakfast or that I can spend endless time researching new restaurants and ingredients.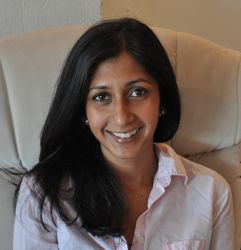 What's Hungry Desi mean?  And how do I pronounce Desi?
Hungry – characteristic of an appetite
Desi (pronounced like "they+see") – a South Asian
Hungry Desi – South Asian with an appetite for traditional Indian food and spicy vegetarian dishes
How can you reach me? Feel free to leave a comment or drop me an email at nithyadas1 (at) gmail (dot) com with questions and suggestions.  And as always, I welcome and appreciate your feedback!  You can also follow me at www.twitter.com/nithyadas.
Comment Policy: I love reading your comments and feedback on posts.  If you try out a recipe, please let me know how it turns out.  Trust me, I'm elated to hear from you!  And if you have a question, feel free to ask it.  I try my hardest to respond to all questions and suggestions in the comments.  If you're question seems urgent, I'll try to respond by email as well.  Lastly, if your comment doesn't show up right away, it probably has a link in it and got caught in the spam filter.  Be patient -I'll release it soon enough.
Reviewing Products and Accepting Samples:
I do not post about products, places, etc. in exchange for money.  If I receive a free product to test or review, I will mention that in my post.  I welcome review copies and products, but I reserve the right to not post about the product and to state my opinion, whether positive or negative, about the product.  Acceptance of your product does not guarantee a review or a positive review of the product. Please feel free to contact me at nithyadas1(at)gmail(dot)com with such requests.
Press: