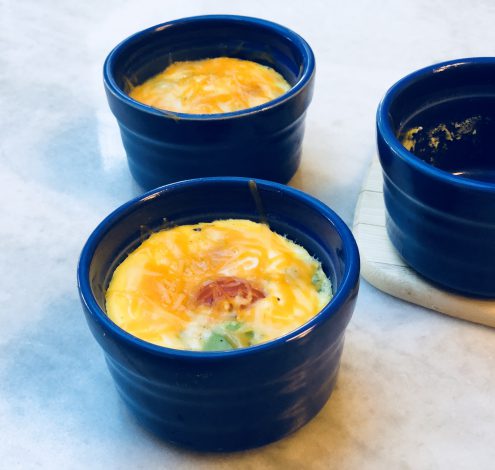 My two best purchases in the last 12 months have been my Instapot and my Peloton bike. That seems like a fitting pairing. Cook delicious things, eat delicious things, attempt to burn off calories associated with delicious things.
When I first bought the Instapot, I thought it would be magical. Like the Wardrobe in Lion, The Witch and the Wardrobe. It's not exactly as magical as that wardrobe but it is excellent for one pot cooking and speeding up cooking times on foods that normally take a long time to cook like rice, lentils and beans and soups. And as I just discovered – eggs.
Eggs are such an easy base for any breakfast dish, and these little frittatas make for a great weekday morning breakfast. If you don't believe it's that simple, watch my little video below.
Cherry tomato, avocado and cheddar cheese are a favorite combination for us but you can put anything in these frittatas. Try out little chunks of boiled potatoes, corn, asparagus and veggie sausage. You can also play around with other cheese like feta cheese which gives the eggs a little salty kick.
The sizing of these ramekins makes it perfect for little hands and small tummies.
Cherry Bomb Avocado Frittata
Ingredients
5 eggs
1 tablespoon milk
Salt
Pepper
1/2 cup cheddar cheese
1/2 cubed avocado
12 cherry tomatoes
Optional: pinch of red pepper, garam masala, coriander powder and cumin powder
Instructions
Crack and whisk the eggs.
Mix in salt, pepper and milk.
Grease the ramekins.
Layer in avocado and 2 cherry tomatoes per ramekin. Add any other ingredients you are using equally amongst the ramekins.
Pour the egg mixture into the ramekins.
Cover each ramekin with aluminum foil.
Place the trivet into your instapot with 1 cup of water.
Put the ramekins into the instapot on the trivet.
Pressure cook for 5 minutes and do quick release.