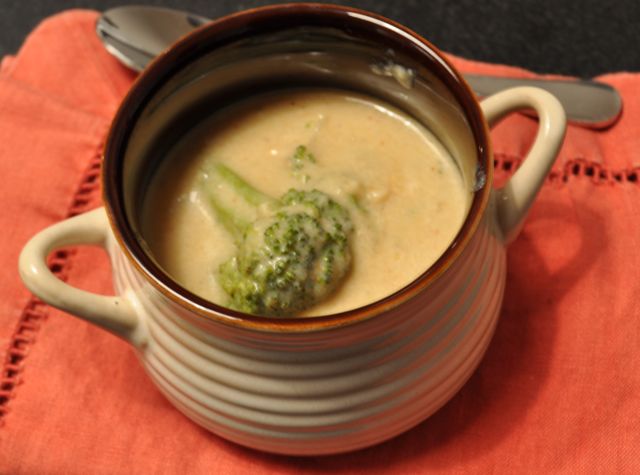 When I get an idea in my head, it's hard to get it out.  The first is that when I saw these bowls in Crate and Barrel, I knew I needed to make a soup worthy of eating from them.  The second is that when I heard New York was getting 7 to 12 inches of snow tonight, my family needed to eat soup.  Something hearty.  Something creamy.  Something that wouldn't make me feel like I needed to go out and buy new pants tomorrow.
Baked potato soup.  Bowl worthy?  Check.  Hearty?  Check.  Creamy?  Check.  No new pants required?  Check.  I think.
Baked Potato Soup
Makes ~6 servings
I adapted this soup from this recipe on All Recipes, but I omitted much of the butter, all of the half and half cream and the cheddar cheese.  Amazingly, the soup was still very rich and creamy.  
Ingredients:
4 medium potatoes
2 tablespoons butter or olivio
Olive oil
1 yellow onion, diced
2 cloves garlic, diced
1 green chili, diced
1/2 cup broccoli, chopped into florets without stem
1/2 cup all purpose flour
4 cups milk
1 cup vegetable broth
1. Poke holes in the potatoes, wrap them in a paper towel and microwave for about 10 minutes until soft.  Allow to cool.
2. Put the butter/olivio in a stock pot on medium heat.  Add a generous swirl of olive oil.  Add the onions and garlic and cook for about 5 minutes until glassy.
3. Add the green chili and cook for another 2-3 minutes.
4. Stir in the flour and cook for thirty seconds to a minute.
5. Slowly whisk in the milk and then the vegetable broth.  Continue cooking on medium low, stirring occassionally to make sure the bottom doesn't burn.  The soup will start to thicken.
6. In a separate skillet, saute the broccoli in olive oil until browned.
7. Cut the potatoes in half.  Use a spoon to scoop out the flesh.
8. Add the potatoes (in chunks) and the broccoli to the pot.  Continue cooking on medium low for another 8-10 minutes.
9. Season with salt, black pepper and cayenne pepper to taste.  I used 2 teaspoons salt, a sprinkle of black pepper and 1/4 teaspoon of cayenne, and my soup had a nice kick to it.