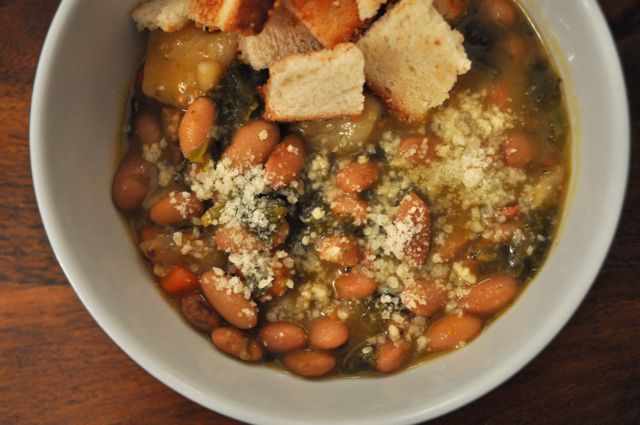 It gets dark early.  My light fall coat is not really cutting it.  And I should be wearing a scarf.  But I'm in denial that the seasons are changing.  I mean, I know summer is over.  Right?  It's over.  I know.  It's over.  But the 48 degree weather outside is practically (by my definition) "winter" and I'm not so ready for that. I am, however, very ready for the lush leafy green bundles of kale, swiss chard, spinach and collard greens that I saw at the farmers market.  Once the greens come out, I develop this itch for making stone soups.
Stone soups?  Don't you remember that book from elementary school?  It's the story about two hungry travelers who trick the villagers into donating ingredients to their "stone" soup.   A little bit of carrot.  A few potatoes.  A fistful of seasoning.  One bundle of leafy greens.  An onion.  A cupful of creamy beans.  Topped off with some crusty bread.  Stone soup.  Also known as, a clean out your fridge and pantry recipe.
One of the few upsides to winter (ok it's really just fall) is that it gives me a good excuse to make a vat of warming stone soup.
Stone Soup
About 6 Servings
A beautiful whole habanero pepper adds smoky heat to this soup.  Perfect for blustery weather.  A leftover rind of parmesan cheese would be great thrown in with the broth in step 4.   I didn't have any lurking in the freezer, so I sprinkled parmesan on top instead.  Also, I didn't have any "good" leftover bread for making the croutons you see in the picture.  So I just used the white Pepperidge Farm bread that I keep on hand.  And it was a delicious topping.  For the beans, I used Rancho Gordo Mayacoba Beans.  They are white and creamy but hold their shape with some bite and chew.  Canellini beans or another white bean would be a good substitute.
1 yellow onion, diced
2-3 garlic cloves, minced
2 medium carrots, peeled and chopped
2 medium size potatoes, peeled and chopped
2 Tofurkey sausage links, quartered (optional)
1 teaspoon Italian seasoning
1 bunch kale, washed and chopped
1-2 cups white beans, (if dried beans soaked overnight)
3-4 cups vegetable broth (I prefer low sodium)
1 habanero pepper
Salt to taste
Breadcrumbs:
Olive oil
Cubed pieces of bread with crust cut off
Sprinkle of salt and grated parmesan cheese
1. In a large stockpot, heat about 1 tablespoon olive oil on medium heat.  Add the onion and garlic and cook until soft and glassy.  Don't let the onions brown.
2. Add the carrots and potatoes and cook about 5-8 minutes until softened.  Add the tofurkey sausage and cook for 3-4 minutes if using.  Sprinkle in the Italian seasoning.
3. Add the  kale and cook for about 5 minutes or until wilted.
4. Add the broth and white beans.*  Add the habanero pepper.  Cover and simmer for 45 minutes to an hour or until the beans are soft.
5. Salt to taste.  Sprinkle with parmesan cheese and serve with toasted breadcrumbs or crusty bread.
The whole habanero will continue seeping a smoky, hot flavor into the soup while you store the leftovers, so if you want to limit the heat, remove the habanero before storing the leftovers.
*At this point, before adding the habanero pepper and salt, I removed some of the soup and pureed it for the baby.  She loved it!  I also freezed some in her ice cube trays for later.
To make the breadcrumbs:
1. Heat about a tablespoon or so of olive oil in a skillet.  Add the breadcrumbs in one layer and coat with the oil
2. Sprinkle with salt and parmesan cheese.
3. Toast until golden.  Splash with a little more olive oil if needed for extra crunch and sizzle.