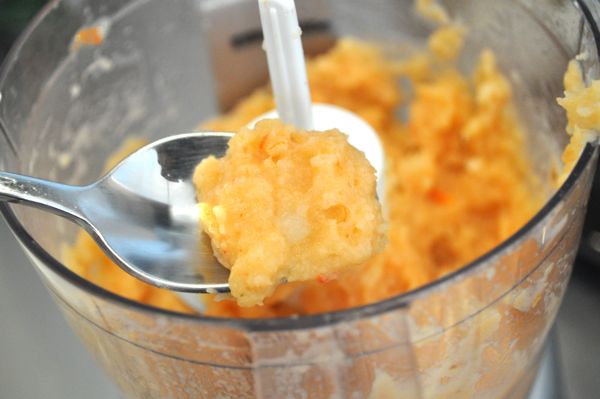 For the first thirty something years of his life, my brother pretended like he didn't eat mustard seeds.  My family is South Indian and mustard seeds are a main ingredient of the tempering which is a base for most South Indian foods.  What this means is that for thirty something years, my mom and dad had to make special portions for my brother.  He didn't eat mustard seeds.  He didn't eat spicy food.  Not that long ago, he confided to me that he had made it up (something tells me that things which someone confides to you should never be the subject of a public post).
So they would make two of everything.  Or alter age old recipes.  Neither of which seems ideal to me.  It's hard enough to find time to cook dinner.  I don't think I can find time to cook dinner twice.
My third spice to introduce Surya to was garam masala.  The story of garam masala goes something like this in our kitchen:
Rajat: Should we add garam masala?
Me: You don't put garam masala in that.
Rajat: Are you sure?  You're not supposed to even put a little in it?
Me: No.  No garam masala.  Don't add any.  It doesn't need garam masala.
So of course she had to love it.  And she did.  She gobbled this down with a little dollop of creamy yogurt.  A true little desi baby.  If I had made more of this, I would have taken a bowl for myself, added a little salt and a pinch more garam masala and joined her.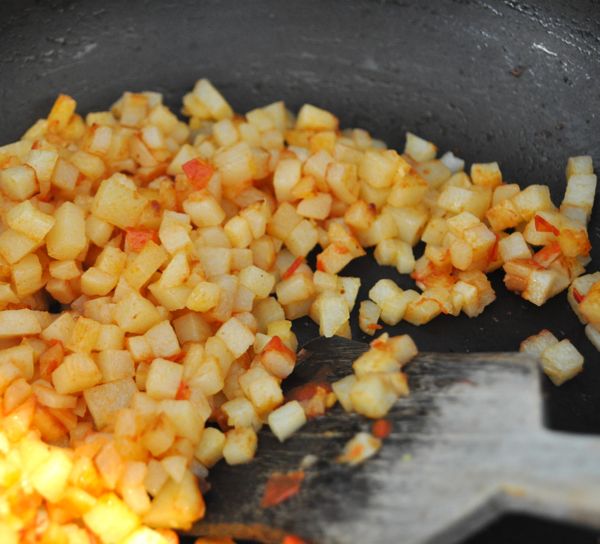 First Potato Curry
4-5 medium tender white potatoes or Russet potatoes
1 small tomato, diced (about 1/4 cup chopped)
Sprinkle of garam masala
Peel the potatoes and finely dice them.  Dice the tomato.  In a wide skillet, heat about a teaspoon of cooking oil.  Add the potatoes and cook, covered partially about 10 minutes until tender.  Add the tomatoes and cook for another 3-4 minutes until the tomatoes wilt.  Sprinkle with garam masala.  Puree in a food processor or using a hand blender or food mill.  Potatoes can become gluey if you puree too much so a quick whir is sufficient.
This First Potato Curry freezes well in the ice cube method and mixes well with Peas with Cumin and Coriander.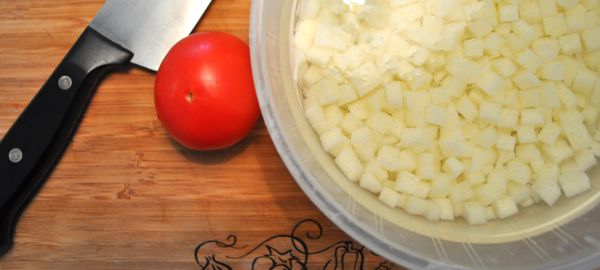 Thanks to everyone for the encouragement to keep posting baby food recipes on Hungry Desi.  There'll still be lots of big people food here of course…but baby food too, which the big people will want to share with the babies!