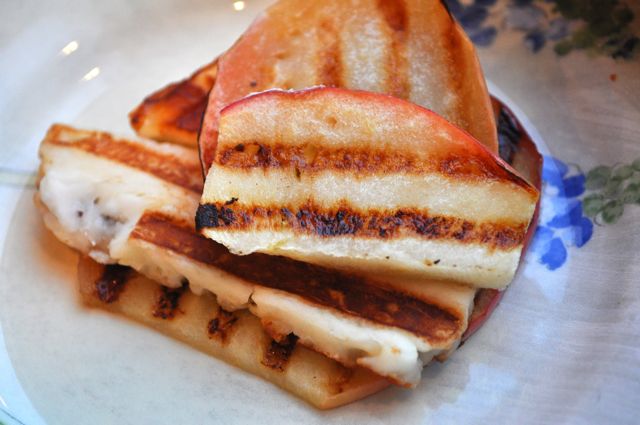 I've been on a haloumi cheese kick recently.  Haloumi cheese is salty, chewy, creamy AND grill-able.  Yes, a grill-able cheese.  Sort of like paneer.  Except that paneer lacks the saltiness of haloumi cheese.  So what does one do with a salty, grillable cheese?  You find a sweet, grill-able friend for it.  Apples.
I like to serve this on a narrow tray with a single layer of grilled apples topped with a layer of grilled haloumi.  It's an appetizer that looks elegant, accomplished and unique but really it's a quick throw together.  It takes about ten minutes on a Cuisinart Griddler
.  And I usually do it after the guests arrive because haloumi gets a little harder and chewier when it cools down. So I find it's best served warm.
Grilled Apples and Haloumi Cheese
1-2 red apples (I've been using Pink Organics b/c they are sweet and tender)
1 package Haloumi cheese
Cut the apples into thin 1/4 inch thick slices.  No need to peel the apples.  Cut the haloumi in 1/4 inch thick rectangles.  Heat a counter grill like the Cuisinart Griddler
to medium hot.  You can also use a skillet if you don't have a grill.  Whichever you are using, spray lightly with EVOO.  Grill the apples first until they get translucent and soft.  Arrange the apples on the tray.  Grill the haloumi slices until golden on both sides.  Haloumi let's off water when you grill it then it becomes golden so don't despair.  Serve hot.
Back when our daughter was a few weeks old, we had friends over and I hadn't cooked anything because – well – we had a newborn and my kitchen was essentially closed.  And we were planning to go out.  So while I was tending to the baby in the other room, my husband decided to be a good host and put out an appetizer.  I came back out to find a bag – yes a bag – as in still in the bag – of Stacey's pita chips and a plastic tub of hummus on the coffee table.  In his defense, he's generally a good host, and we were both sleep deprived out of our minds.
Ever since that evening though, he's been on notice that such things do not happen in my house.  It's not that I need to be Bree Vandekamp 24-7 but I like to serve friends and family good food that has some thought and initiative and care behind it.  Although, I do very often serve Stacey's pita chips and store bought hummus as an appetizer as well.  I just put them in proper bowls first 🙂