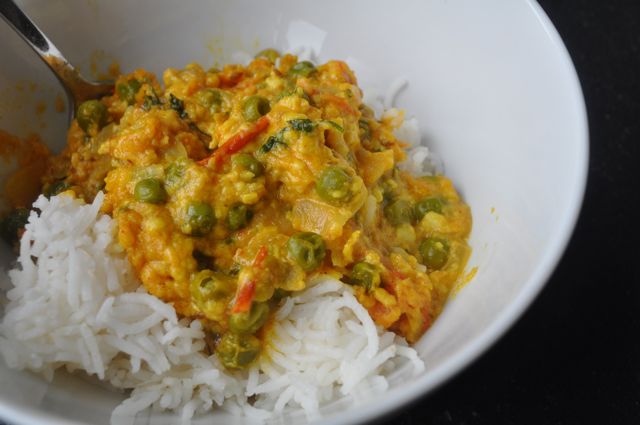 What happens when you put rectangles of paneer through your food processor with the shredder blade on? You end up with soft piles of stringy tendrils of paneer. What happens when you saute soft piles of stringy tendrils of paneer? It becomes soft and gooey creamy cheesy deliciousness. That then gets eaten quickly.
Update: I didn't originally share a recipe for this…I thought I could get away without one like Jennifer from Last Night's Dinner.  But a few people have asked, and I feel bad not sharing.  I've only made this once, and it was a bit on the fly but here's the recipe from memory.
Shredded Paneer and Peas
(~6 Servings)
1 block paneer (let it come room temperature)
1 small yellow/white onion, coarsely diced
1 tomatoes, coarsely chopped
1 1/2 cups frozen peas (or 1 box)
1/2 teaspoon turmeric
1/2 teaspoon red chili powder
1 teaspoon cumin powder
1 teaspoon coriander powder
1/2 teaspoon garam masala
1/4 cup milk (optional)
Cut the paneer into small inch long sticks that will fit through the food processor.  Fit your food processor with the shredder blade and shred the paneer.  You can do this by hand with a grater but it will probably take forever.  If you don't have a food processor, try letting the paneer come to room temperature then crumbling it by hand.
In a wide skillet, heat about a tablespoon of oil.  Add the onions and cook on medium heat until glassy, about 5-8 minutes.  Add the tomato and cook until the tomatoes melt, about another 5-8 minutes.  Add the peas and cook until softened.  Stir in the paneer and all of the spices.  Stir in the milk and cook for another 2-3 minutes.
Variations: Try substituting mushrooms or crunchy corn for the peas then spreading the paneer mixture on crunchy triangles of toast with a hot cup of tea.