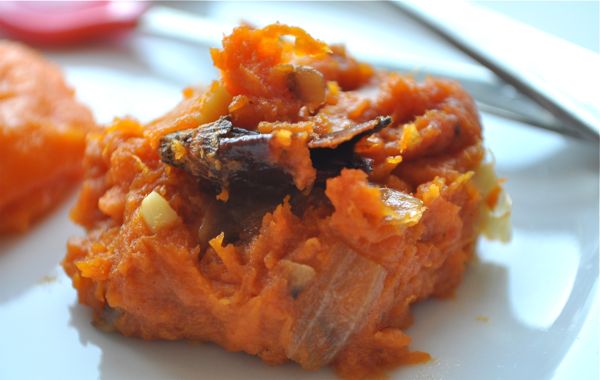 Organic brown rice, organic rice bran extract, tocopherols (Vitamin E), alpha-amylase (enzyme) and electrolytic iron. That was my daughter's foray into the world of solids.  Rice cereal.  That makes me so sad.  After a few days of tightly closed, pursed lips, I tasted the cereal myself.  While Surya was watching me.  Alert: novice error.  I had to feign an "mmmmm delicious" face.  It was awful.  So I decided to fast forward to pureed sweet potatoes.  Sadly, those haven't been much more well received, but I'm chalking the lack of enthusiasm up to her getting used to a spoon and a new texture.  And to the idea of food!
While Surya was noshing on her pureed sweet potatos, we had some sweet potatos of our own.  Ours had just a few more bells and whistles.  Cracked red chillies and soft nuggets of garlic hidden within the natural sweetness of the potatoes. If only Surya could have had a little nibble from our sweet potatoes.  There would have been no spoon confusion.  I'm pretty sure she would have been opening wide for a second bite.
Baked Sweet Potatoes with Chili Garlic
~About 5-6 servings~
I was thinking about cooking with sweet potatoes, but hesitated because I'm not a huge sweets person.  The natural sweetness seemed to be begging for a pairing with spicy heat.  When my brother suggested cooking them in chili oil with some garlic, I was a little skeptical about how garlic would pair with the sweetness  But the savory, garlicky nuggets went perfectly with the almost caramelized tasting sweet potatoes.  I usually just add dried red chillies whole to dishes, but I broke them up here so they could properly challenge the sweetness of the sweet potatoes.  Breaking the chillies releases more of the heat b/c the seeds get released.
4 medium sized sweet potatoes, washed
1/2 yellow/white onion, roughly diced
4-5 cloves garlic, diced
3-4 dried red chillies
1 teaspoon chat masala
Salt to taste
1. Preheat the oven to 350 degrees.  Poke a few holes in the sweet potatoes to prevent them from exploding in the oven.  Place on a cookie tray and bake for about 1 hour.  They should be tender but not mushy.  Remove from the oven and allow to cool until you can handle them.  Slit them in half and use a spoon to scoop the insides out into a small bowl.  Lightly mash them with the back of a spoon.  I left a few pieces chunky for texture.
2. Heat a splash of olive oil in a large skillet on medium heat. Add the onions and saute for about 5-8 minutes.  Add the garlic and continue cooking until the onions are glassy and the garlic is soft but not browned.
3. Add the red chillies and continue cooking for another 3-4 minutes.
4. Add in the sweet potatoes and mix well.
5. Sprinkle with the chat masala and salt to taste.  I used about one and a half teaspoons of salt.
Chat masala gives a tangy, tart taste to the sweet potatoes.  If you don't have it in your spice cabinet, try a teaspoon or so of lemon juice.