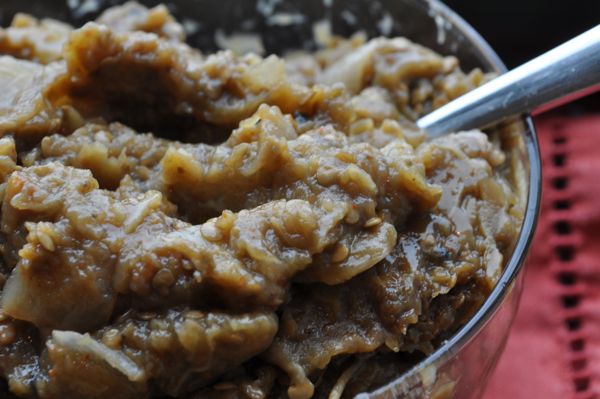 A few weeks ago, my parents held a small prayer ceremony in their home to mark the anniversary of my paternal grandfather's passing.  He died when my dad was in his 20's so I never knew him.  As part of the ceremony, my mom prepared foods that were my grandfather's favorites when he was alive.  The food is offered during the ceremony for the deceased.
I got to talking with my dad about Eggplant Barbeque, one of my grandfather's favorites.  My dad made this often when we were growing up.  It's made from a roasted then pureed eggplant.  My dad has called it Eggplant Barbeque for as long as I can remember.
I never knew it was one of his father's favorite foods until now.  Certain foods remind me of a place, a trip, a special occasion…but I've never had a food associated with such a significant memory – that of a loved one who is no longer with me.  It makes me wonder what my dad thought of each time he made Eggplant Barbeque for us.  Was he thinking about his father?  If so, he never let on.
Baingan Bharta is a common dish in Indian restaurants, but this version is different because it uses South Indian flavors and spices rather than the North Indian spices found in the restaurant version.  The South Indian flavors – crunchy channa daal and urad daal, spicy sambar powder
, slightly bitter mustard seeds and tangy tamarind juice – allow the velvety, nutty flavory of the eggplant to shine.
Eggplant "Barbeque"
~About 4-5 servings~
~Adapted from my dad's recipe as told to me~
Roasting an eggplant in your oven will fill your kitchen with a warming, nutty, subtly smoky fragrance as the purple skin blackens that is as enjoyable as the scent of melting butter.  That's right.  Melting butter.  You can also roast the eggplant over a gas burner (carefully) but my dad recommends doing this in the oven because the stove top method is messy.
2 large eggplants, washed
2 teaspoons channa daal, washed
1 teaspoon urad daal (skinned and split), washed
Handful of curry leaves, washed
2 green chilies, diced or 1/2 teaspoon cayenne pepper
1 teaspoon mustard seeds
1 onion, diced
1/4 cup tamarind water or to taste
1-2 teaspoons sambar powder
1 teaspoon salt or to taste
1. Preheat the oven to 450 degrees.  Poke holes in the eggplant with a fork (about 2 on each side to prevent the eggplant from exploding in the oven).  Place the eggplants on a cookie tray covered with aluminum foil (I was out of foil which is why you don't see it in the pictures but it does make clean up easier).  Pour a little olive oil into your left palm, rub it together with your right palm then rub both hands along the outside of the eggplants until they are well coated.  Place in the oven for about 20-30 minutes until the eggplants begin to look slightly deflated and the skin is darkened.
2. Allow the eggplant to cool enough to handle, then use your hands to peel the skin off.  Cut off the stalk from the end.  Put the eggplants in a bowl and using a fork, your hands or a potato ricer, mash the eggplant.
3. In a large saucepan, heat about 1 tablespoon oil. Add the channa daal, urad daal, curry leaves, mustard seeds and green chilies if using.  Cook for about 3-4 minutes until the daal is browned and the mustard seeds have sputtered.
4. Add the onions and saute until softened and translucent about 4-5 minutes.
5. Pour in the tamarind water and allow the juice to bubble.  Mix in the eggplant, sambar powder and salt. Add more tamarind water if the eggplant does not have a slightly tangy flavor.
Serve with roti or mix well with basmati rice.
How to roast and prepare the eggplant: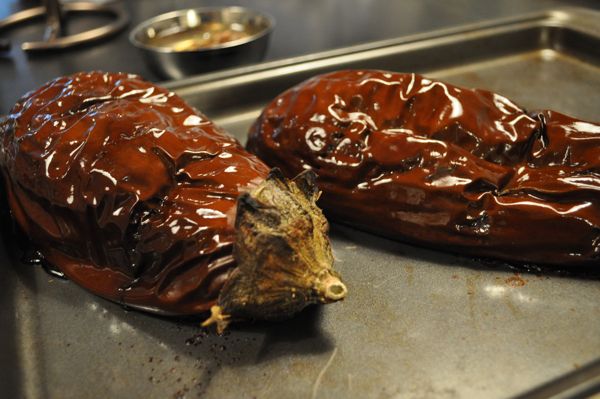 Poke holes in the eggplant, rub with oil and roast at 450 degrees until blackened and deflated.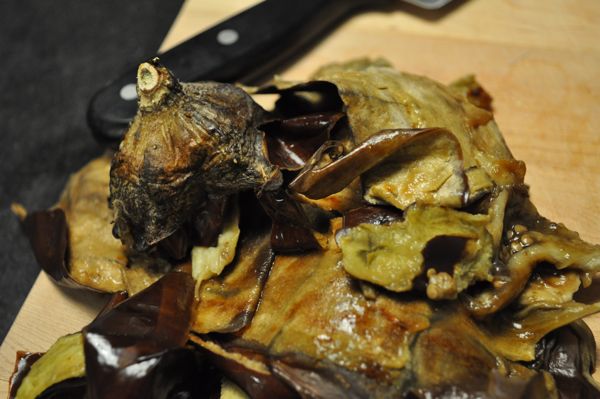 Use your hands to peel off the skin. It should come off relatively easily.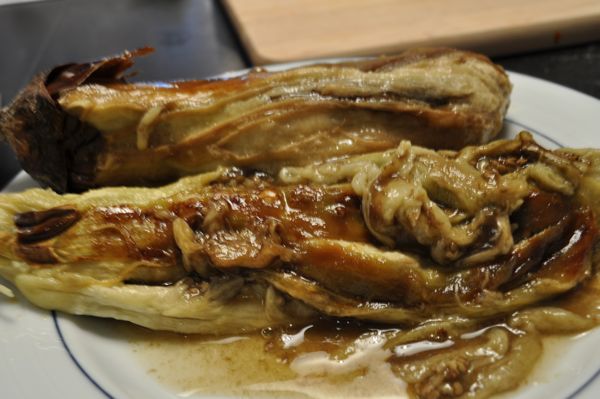 Cut the stalks off of the end of the skinned eggplants.  Be sure to cut close to the base so you don't lose any precious eggplant.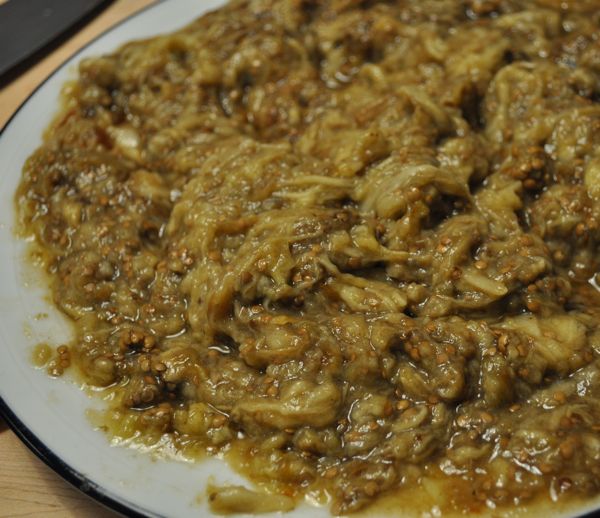 Using a fork, mash the eggplant. Looks kind of gross I know.  But it is velvety, nutty goodness.