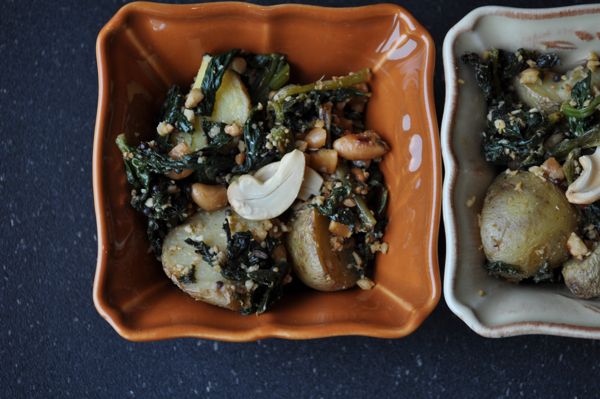 QUICK is king in my kitchen ever since Surya's arrival in our life.  Some friends have been asking me how I've been managing to cook and blog.  The answer is that I steal little snippets of time between naps and during Daddy time.  Whether it's cooking, taking pictures or writing up posts, I do it because otherwise there's extra energy that builds up inside of me.  If I don't cook, I start to feel a little edgy.  It makes me restless.  I guess you could say cooking keeps me in a good mood.  I also do it because it's important to me that we have something FRESH on the table at least every other night (note: that's a goal – not an always reality). Plus, what I do is nothing compared to the amazing feats that go on over at Smitten Kitchen.
So, on Monday I picked up a few items that I knew could (and hopefully would) get used up during the week – something green (spinach and kale), something starchy (soft baby yukon potatoes), a red bellpepper (haven't used it yet but will scramble it with an egg over the weekend), mushrooms, a package of tofu, coconut milk, frozen peas (I can never have too many peas in the freezer!), canned tomatoes – you get the picture.
I also happened to buy a bag of CASHEWS.  Ever since I saw this recipe over at The Kitchn for Cashew Tomato Soup, I've been obsessed with using cashews to RICHEN up dishes and to add CRUNCH.  I still have plenty of cashews leftover (it's amazing how a few cashews go a long way).  Any suggestions for what to use my leftover cashews for? That soup is still on my list.
Earlier in the week, I made an easy red curry using Thai Kitchen Red Curry Paste
, kale, potatoes, carrots, mushrooms, peas and tofu and threw a handful of cashews into the curry sauce.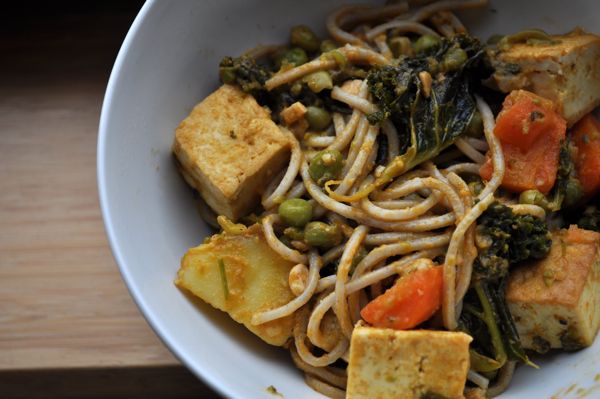 The cashews softened up slightly so the result was a CHEWY CRUNCH in each bite.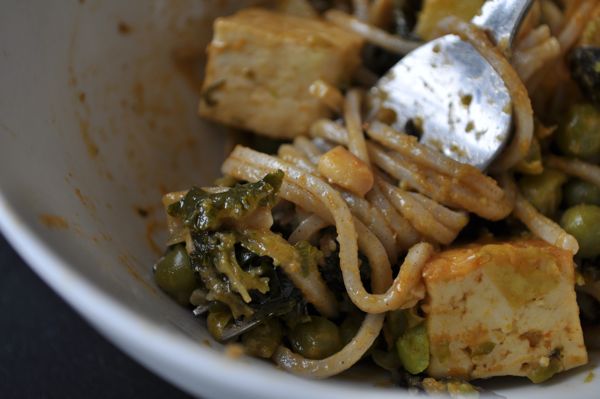 Then on Wednesday, without having found much free time on my hands during the day, I realized it was already 7:30 in the evening and I had made no move towards dinner.  So, I decided to make up a quick, dry ALOO SAAG.  Easy enough.  But boring.  Nothing very sexy to it.  And that's when I remembered the cashews.
Crunch Cashew Aloo Saag
~6 servings~
You don't need to get out a food processor for the cashews because they don't need to be completely powdered.  I prefer them rough cut so some pieces are finely powdered and others are left in chunks so you get the richness plus the crunch factor.  I noshed mine around in a mortar and pestle, but you could do it by hand with a knife. Just be careful not to let the pieces scatter. Also, I used some buttery soft baby Yukon gold potatoes.  They cook quicker than Idaho potatoes, but you could substitute those and increase the cooking time.
6-8 baby Yukon potatoes, quartered
1 teaspoon cumin seeds
1 teaspoon mustard seeds
1 bunch spinach, cleaned and bottom of stems removed
Handful of roasted cashews, coarsely powdered (see headnote)
1/4 teaspoon red chili powder
Salt to taste
1. Heat about a tablespoon of cooking oil in a wide skillet on medium heat.  Add the cumin seeds and mustard seeds and cook for a minute or so until fragrant and the mustard seeds start popping (be careful as the oil may splatter from the popping).
2. Add the potatoes and cook uncovered for about 10-15 minutes until the potatoes are soft when stabbed with a fork.
3. Add in the spinach and cook until it wilts.
4. Stir in the cashews, red chili powder and salt.
If you want to include it as part of a full Indian meal, serve it with something liquidy (since this is dry) like Daal Makhani or Mattar Mushroom (Shitake Mushrooms and Peas), naan, basmati rice and yogurt.
Rajat was a little skeptical when he saw me powdering up the cashews.
"What's that for", he casually asked.
Translation (maybe. in my head at least.): "What on earth are you going to do with those?"
"Oh, it's for the Aloo Saag.  For some creaminess.  And crunchiness." (Said with a certain amount of duh-factor in my voice as though I had had it this way a million times before.)
"Oh.  Okay."
Translation (maybe. in my head at least.): "What's our back up?"
But in the end, he agreed. The cashews were a big success.