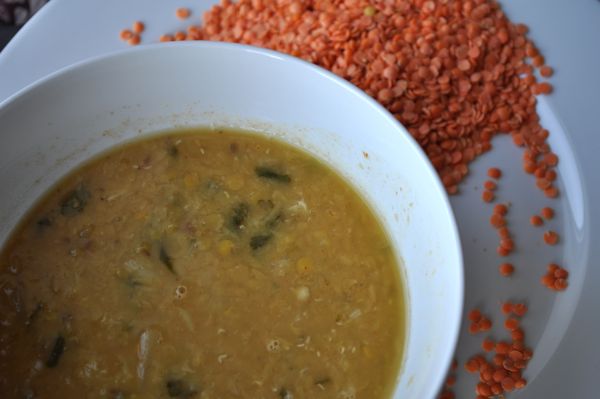 I picked up an awful cold (though I suppose there are no pleasant colds?) from somewhere or someone last week.  It's the kind that comes with a sore throat (as in, it hurts to swallow), hacking cough and stuffy nose.  I've been popping enough cough drops and sore throat lozenges to make my dentist grimace.  My teeth are starting to hurt from the hot salt water gargles.  It's been causing me to crave hot soup – the kind of soup that's hot enough to melt away congestion and re-energize me.
This craving has translated into lentil soups.  They are easy to make, require very few ingredients yet have layers of flavor and fill you up with protein.  I made this Red Lentil and Smashed Garlic Soup the night before while I was making seitan tacos.  It was a real treat to open up fridge the next day and warm up a bowl of this soup for lunch.
Red lentils are the result of skinning and splitting masoor, a greenish-brown disc shaped lentil.  These lentils boil and fall apart easily because they have been skinned and split.  This is a real plus because there's no pre-soaking required, which means no pre-planning required (something I'm always bad about but particularly bad about when sick).  As you can see from the picture, they become a brownish, yellow color when cooked.
Red Lentil and Smashed Garlic Soup
~4 servings~
Smashing the garlic releases all of the garlic juices and is a real treat to find on your spoon when lapping up the soup.  The garlic should get tender and glassy, not golden and browned.  If you're worried about too many chunks of garlic (though I can't imagine why), you can slice half of cloves called for below and just smash half.  But smash at least some so you aren't deprived of a few mouthfuls of soft, buttery garlic.
This soup is great topped with toasted cumin seeds for a flavorful crunch, a sprinkling of lemon juice for zest or even a handful of peeled, cubed potatoes tossed in while boiling the lentils.  Or you can keep it simple and just enjoy the tender, smashed cloves of garlic melting against your tongue, meaty lentils and a little spicy heat to stir your senses.
1 yellow onion, sliced into long crescents
4-5 medium garlic cloves
1 teaspoon cumin seeds
1 cup red lentils, washed and picked through
Fistful of cilantro, washed and chopped
1/4 teaspoon red chili powder
Salt to taste (about 1 and 1/2 teaspoons)
1. Peel the garlic cloves and cut in half.  Place the cut side down and smash by pressing down with the flat edge of the knife.  If you're worried about too many mouthfuls of smashed garlic, alternatively, you can slice half of the garlic cloves called for and smash the other half.  (However, I encourage more mouthfuls of smashed garlic – not less).
2. In a small saucepan, heat about two teaspoons olive oil on medium heat and cook the onions for about 3-4 minutes until translucent.
3.  Add the garlic cloves and continue cooking.  The garlic should get translucent – not browned/golden.
4. Push the onions and garlic to the sides of the pan and add the cumin seeds in the middle.  Cook like this until the seeds are toasted and fragrant then mix with the onions and garlic.
5. Add the lentils, two cups of water* and cilantro.  Bring to a rapid boil then cover and reduce the heat to low.  After a few minutes, you will need to add an additional cup or two cups of water.
6. Cook for about 10-15 minutes covered until the lentils fall apart.  Stir in the red chili powder and salt.
7. Add more water to make the soup more liquid-y and taste for salt and pepper.  Make sure you add enough salt or the lentils will just taste flat.
*You can substitute vegetable stock to add even more flavor to the soup, but don't fret if you don't have any on hand.  There's plenty of flavor without stock.