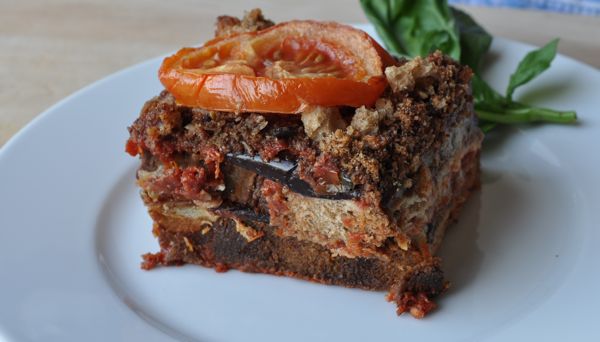 On Saturday, I declared I was giving up bread in an effort to shed my last "few" baby pounds. On Sunday, I bought a crusty Balthazar baguette which we devoured with mini wedges of brie. On Monday, I dove into a frozen sourdough pullman loaf from FreshDirect (how is frozen bread so good?). Tuesday is a blur but I'm sure there was bread. Then Wednesday, I went and bought a hazelnut raisin loaf from Almondine (Heavenly.  Though it's not my fault I bought it.  The guy behind the counter asked if I wanted the last loaf and was incredulous when I hesitated…I guess they usually sell out fast) AND I made a Bread and Eggplant Lasagna.
Obviously, I'm not giving up bread. It's okay though. The Bread and Eggplant Lasagna is worth it. And the hazelnut raisin bread…well, a slice in the morning with a pat of butter dulls the haze of sleeping in 2 hour increments. For the lasagna, I followed a recipe from VeganYumYum, and I didn't make very many changes. You can find the recipe here. It's a noodle-less lasagna (yes, as in no noodles) so perhaps it's more accurately described as a casserole.  No matter what you call it, it's layers of chewy bread soaked in a garlicky tomato marinara sauce, velvety eggplant with slightly charred skin and melty mozzarella cheese.  We didn't even miss the noodles.
In case you're interested, here are the changes that I made:
Sauce – I sauteed green chili peppers and fresh basil with the garlic. As an afterthought, I added a few shakes of crushed red chili pepper flakes for added back heat.  Rajat pointed out that a little sprinkle of sugar might have been good to cut the tartness of the tomatoes.
Eggplant – As you can see from the photos, I didn't peel the eggplants. I happen to like the taste and texture of the skin. Also my mom has drilled into my head that many of the  nutrients are in the skin.
Bread – I sprayed the bread slices with olive oil spray, showered them with salt and broiled for about 5 minutes. Pan frying is perhaps tastier, but I didn't have time. I haven't had it the other way, but broiling the bread turned out really well.  Also, I used a loaf of French Country Bread because I couldn't get sourdough.
Cheese – I de-veganized the lasagna by adding cheese.  Lasagna without noodles is good and well, but I need cheese.
Cooking – At the end of baking the lasagna, I drizzled a little olive oil over the top and broiled it for a few minutes until the tomatoes looked wilted and the breadcrumbs were toasted.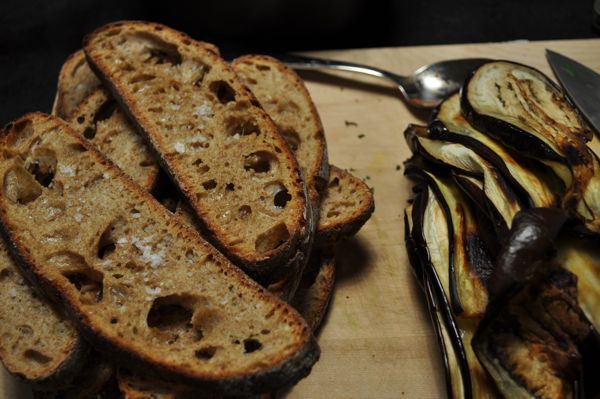 One of the things I loved about this recipe is that it came together easily.  Once you prep the eggplant and get it into the oven, you've finished with the most time intensive part.  Yet, it looks incredibly elaborate.  I made this in 10-15 minute snippets that I stole between Surya's 15 and 30 minute naps.  And the best part is that the leftovers reheat well.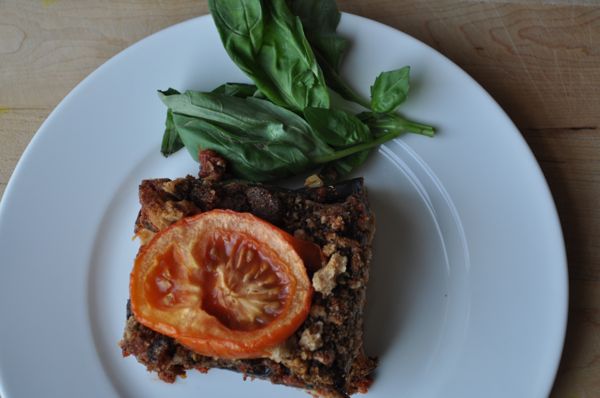 I just got a review copy of Vegan Yum Yum: Decadent (But Doable) Animal-Free Recipes for Entertaining and Everyday
, a cookbook by Lolo, the author behind VeganYumYum,.  After trying her Bread and Eggplant recipe, I'm excited to try out some recipes in the cookbook.  Check back for a review of the cookbook coming soon.