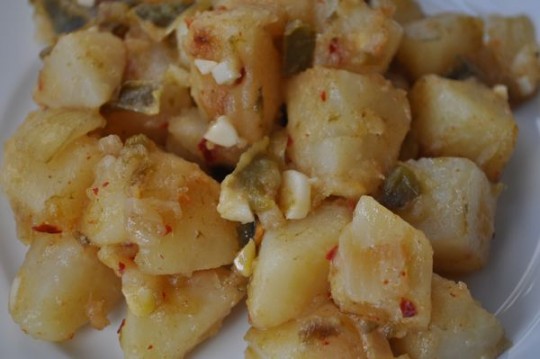 My mom has had me on a strict "baby friendly" diet ever since Surya arrived.  There's a whole laundry list of foods that should apparently be avoided while nursing.  The list is in part derived from the internet and by way of word of mouth from my aunties in India.  I'm just thankful to have my mom cooking for me so I haven't really complained much.  Plus, Rajat and I are a big fan of whatever might help keep Surya calm during the night.
Potatoes sadly made their way onto her list of no-no's.  So please, for me, have these skillet potatoes with mojo de ajo this weekend.
For the last few months, I've been doing two new things. One, I've been eating breakfast at home.  <Baby, you're welcome.>  Two, I've been reading cookbooks and cooking magazines while I eat breakfast.  An odd way to start off the day?  Maybe.  For some.  But I love it.  It helps me brainstorm ideas for dinner.  Although I've been told that it's abnormal to think about dinner before 10 am.  I find this hard to believe.  What time do 'normal' people start thinking about dinner?  I am almost always thinking about dinner.  Or lunch.
Martha Stewart Living from June 2009 kept finding its way into my breakfast reading rotation.  And I kept going off to work salivating over Martha's description of mojo de ajo, a garlic oil sauce with lime juice and hot pepper.  Martha's recipe is for making mojo de ajo to top off chicken fajitas.  I contemplated concocting vegetarian fajitas with mojo de ajo but honestly I'm too lazy for fajitas.  The at-the-table-self-assembly process is too much for me.
So, I made a batch of mojo de ajo and drizzled a generous amount over potatoes that had been cooked until they were melt-in-your-mouth soft with green bellpeppers and onions for an earthy balance.  Be forewarned – mojo de ajo's garlicky-lime-chili pepper kick is addictive.
Skillet Potatoes with Mojo De Ajo (Garlic Oil)
~6 servings~
Adapted from Martha Stewart Living's Chicken Fajitas
You can use the leftover mojo de ajo in other dishes.  Try it as a salad dressing or, if you're not anti-fajita like I am, fire up some veggies and tofu or Morning Star Vegetarian Chick'n Strips and drizzle them with mojo de ajo.  If you are anti-fajita, roll it all up in a wrap and call it a day.
For the Potatoes:
1 green bell pepper, diced
1 yellow onion, diced
4-5 Idaho potatoes, peeled and cubed

For the Mojo De Ajo:
One-fourth cup extra virgin olive oil
4 to 6 cloves garlic, minced
2 limes, juiced
1 1/2 teaspoons red chili pepper flakes
1 teaspoon coarse salt
1. Make the mojo de ajo: In a small saucepan, heat the oil and the garlic for about 8-10 minutes on low heat until the garlic is soft.  It should not get browned.  Remove from the heat and allow to cool for a few minutes.  Stir in the lime juice, red chili pepper flakes and salt.
2. In a deep skillet, heat oil on medium heat.  Add the onions and bell peppers and cook until the onions and bell peppers soften, stirring frequently to keep from browning.
3. Add the potatoes and mix in with the onions and bell peppers.  Cook covered on medium heat for about 15 minutes until the potatoes are softened.  Test with a fork.
4. Drizzle the mojo de ajo over the potatoes and stir well to coat all of the vegetables.  Taste for salt and adjust as needed.  Add more mojo de ajo as needed.  Serve hot.