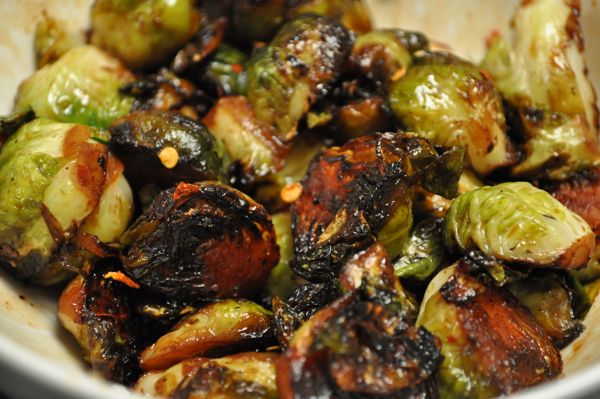 I just ate a pound of brussels sprouts.  By myself.  It didn't even take that long.  They were roasted in honey butter then showered with red chili pepper flakes and salt.  They were soft and tender with a honey charred glaze cut by pops of salty spiciness.  Before I knew it, the entire pound of brussels sprouts was gone.

How can you not like brussels sprouts?  Rajat made some vague comments about the texture and the taste…it doesn't make sense to me.  The texture is soft and chewy and the taste a mellower, nuttier version of cabbage.  And the smell alone of the brussels sprouts roasting in the honey butter should be enough to convert the staunchest of brussels sprouts haters into popping one into their mouth.  They will immediately be transformed into a brussels sprouts lover.
And if they aren't?
All the more brussels sprouts for you.  That's sure to make for a happy Thanksgiving.
Brussels Sprouts Roasted in Honey Butter with Chili Flakes
Serve these brussels sprouts hot out of the pan.  You could shower these with some shredded parmesan cheese but I thought they were delicious on their own.
Ingredients:
1 pound brussels sprouts
Tablespoon butter
Tablespoon honey
Sea salt
Sprinkle of red chili flakes
1. Trim any loose or yellow leaves from the sprouts.  Cut the stem off of each brussels sprout and then cut each one in half.
2. In a small bowl, mix a tablespoon of soft butter (microwave it for 10-20 seconds if it's coming straight from the refrigerator) with a tablespoon of honey.
3. Heat a wide, flat skillet on medium heat.  Add the honey butter and allow to bubble and melt then add the brussels sprouts.  Arrange the brussels sprouts cut side down in a single layer.  Cook for about 8-10 minutes uncovered until the cut side gets golden and a little charred.
4. Sprinkle chili flakes and a generous amount of salt over the brussels sprouts.
5. Stir the brussels sprouts around so most of them turn over cut side up.  Add two tablespoons of water and cook covered for another 3-5 minutes until the brussels sprouts are soft through and through.  Test one by poking it with a fork.
6. Adjust for salt and spice. Serve hot.
Looking for other vegetarian/vegan Thanksgiving dishes?  Here are a few links that I've bookmarked:
Julia Moskin's Show-Off Sides to Rival the Pull of a Drumstick
Kalyn's Kitchen's Low-Glycemic Holiday Recipe Ideas
Holiday Vegetarian Main Courses from Whole Foods