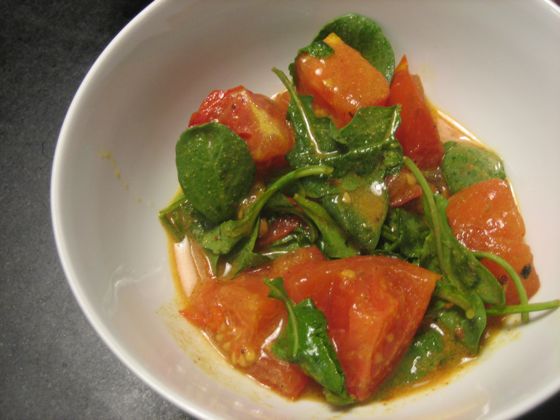 Do you ever come back from vacation with memories of a dish that you ate during your trip and then try to recreate it at home?  I have at least 3 dishes from our last trip that I'm trying to deconstruct and recreate.
Sometimes it can be cumbersome to vacation as a strict vegetarian, but on occasion, when you have chefs who really embrace the challenge, it's a lot of fun.  During a recent trip to the Virgin Islands, the chefs at our hotel, Little Dix Bay in Virgin Gorda, treated us to a four day culinary adventure in their efforts to accommodate our vegetarian diet.  Among their creations was an appetizer of an open face warmed tomato topped with a spicy Trinidadian curry and set atop a bed of fresh arugula.  The tomato was explosively juicy and the arugula a fresh, tempering to the fiery, yellow curry.  
After dinner, when the chef came out to ask how we enjoyed the meal (though our licked clean plates must have been a good clue), we told him how tasty yet simple the tomato salad had been.  I tried more than a few times to get the curry recipe out of him.  He didn't budge.  I thought maybe it was due to a language barrier, so I tried again, this time guessing at a few of the spices.  I only got him to confirm that the curry was yogurt based, incorporated turmeric and chili powder and was Trinidadian.
Back home in New York, some obsessive google searching brought me to a few different recipes for Trinidadian curry spice blends.  This is one of the few times I've made my own spice blend.  It requires an up front time commitment if you decide to use seeds, which need to be ground.  It was worth it though because I got to use up a lot of my "seed" spices and, even if you just blend powdered spices, your curry powder is arguably fresher than store bought packaged curry powder.  I also like being able to taste a little pinch of the blend at the end and adjust it for spice and heat per my liking.
That being said, I won't judge you if you don't want to blend your own spices.  Just substitute curry powder!
Curried Tomato and Arugula Salad
~8 servings~
I made this for a party, so rather than using a half of a tomato per serving, I quartered some juicy vine ripe tomatoes.  You can make the curry sauce and mix it with the tomatoes ahead of time.  Dress it with the arugula right before you're ready to serve.  Leftovers reheat well in the microwave.
Olive oil
8 juicy vine ripe tomatoes, halved then quartered
Sea salt
2-3 teaspoons curry powder
28 ounce can coconut milk
Arugula
1. Preheat the oven to 350 degrees.
2. Put the quartered tomatoes in a large mixing bowl.  Drizzle about 1 tablespoon of olive oil over the tomatoes and shower with about 1 tablespoon of sea salt.  Mix well.
3. Cover a cookie tray with a piece of parchment paper.  Spread the tomatoes across the cookie tray in a single layer.  Bake for about 15-20 minutes or until the tomatoes start to look slightly wrinkly and melted.
4. In a saucepan, heat about a teaspoon of olive oil on medium heat.  Add the curry powder and cook for about a minute being careful not to let the spices burn.
5. Add the coconut milk and stir well.    
6. Transfer the tomatoes to a large serving bowl and pour the curry sauce over the tomatoes, gently mixing the two together.
7. When ready to serve, toss with the arugula. 
Update: I've made this again using Greek yogurt (Fage 2%) instead of coconut milk which results in a creamy, thicker curry dressing.  Whisk yogurt with a spoon until smooth.  Add water until you have your desired consistency.  In a saucepan, heat oil then fry the spices on medium low heat for a few minutes.  Allow to cool then add to the whisked yogurt.  
I used this recipe to make my Trinidadian Spice Mix. It makes enough to fill a small jar, so you'll have plenty leftover.  I omitted the star anise because I didn't have any and didn't want to add yet another ingredient to my spice cabinet.