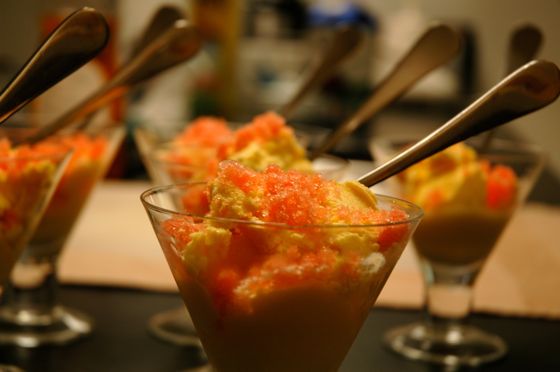 What is it about the smell of roses that's so relaxing?  Stick your nose into the center of a rose flower and inhale.   You're greeted with a heavenly scent followed by a calm that comes over you.  For me, there's also a regatta of sneezes that follows thanks to my allergies.  
Shaved Rose Water Ice is both sweet and refreshing as well as, well, really relaxing.  I'm resisting the urge to "cleverly" weave in a pun here using the old adage about stopping to smell the roses.  Really though, whoever came up with that was spot on, right?
This Rose Water Ice is made using Roohafza, a juice concentrate made from rose petals and infused with different flowers and fruits into a thick, red, sugary syrup.  It's commonly used to trick kids into drinking their milk – just mix a little bit with a glass of cold milk and suddenly milk seems like dessert.  It's also used as an escape from hot Indian summers, stirred into ice water for a cooling drink or blended with yogurt into a smoothie, or lassi.  You can find Roohafza at Indian and Middle Eastern grocery stores.
My idea for Shaved Rose Water Ice came from a snippet in Martha Stewart Living about Easy Frozen Granita.  The beauty is that you don't actually have to do any shaving.  Here's what you do:
Make ice cubes in a silicon tray using any fruit juice.  I mixed about 2 tablespoons of Roohafza with about 2 cups of water.  Before pouring the Roohafza water into the ice cube trays, taste it to see if it needs to be sweeter (add more syrup) or a little less sweet (add more water).  Pulse three to four ice cubes at a time in a food processor or blender until the cubes are broken down into shards.  I found it works best to pulse then store the shaved ice in an airtight container and re-freeze for at least thirty minutes before serving.   
You can serve the shaved ice alone or sprinkle a generous serving of it over a flavorful, fruity ice cream like mango ice cream.  Either way, it makes for a refreshing sweet treat that leaves you relaxed and content.  
June happens to be National Rose Month – below are some photos of roses that I took this weekend at the Brooklyn Botanical Garden's Cranford Rose Garden.