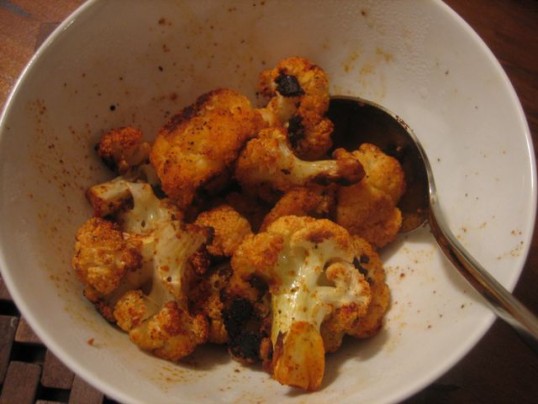 Growing up in an all vegetarian household, we ate a lot of vegetables.  Afternoons snacks sometimes were bowls of freshly boiled peas, lima beans or brussel sprouts topped with butter and showered with salt and pepper.  Cabbage, broccoli, beans – you name it, we ate it.  And we enjoyed the pure vegetable taste of it.  This roasted cauliflower recipe is an adult version of those simple vegetable sides.  This recipe leaves the cauliflower bare enough for you to taste the nuttiness that comes out from the roasting with just a slight of hint of spice and tanginess.  See below for what I recommend serving this with.
A Side of Roasted Cauliflower
Adapted from Everyday Food 
1 head of cauliflower, stem removed and cut into small florets
2 tablespoons olive oil (I used chili infused olive oil.  Regular OO works too but you may want to increase the chili powder)
2 tablespoons paprika
1 teaspoon red chili powder (lal mirch)
Salt to taste
1 teaspoon lemon juice 
1. Preheat the oven to 450 degrees.  Put the cauliflower florets into a big mixing bowl.  Drizzle the olive oil over the florets.
2. Shower the florets with paprika, red chili powder and salt.
3. To mix the spices in well, cover the opening of the bowl (I use a plate with the eating side facing up) and shake well.
4. Line a cookie tray with aluminum foil.  Spread the florets evenly on the tray.  
5. Roast in the oven for about 25-30 minutes or until the cauliflower begins to look soft and golden.  Turn the pieces halfway through the roasting if needed.
6. Adjust salt and spice as needed.
7. Sprinkle lemon juice over the cauliflower immediately before serving. 
I would definitely serve this at a dinner party.  Would you?  Rajat would probably tell me it's too simple, but I disagree.  The paprika and the chili powder give the cauliflower a beautiful red hew and the roasting makes it all golden. The vivid colors and the nutty, spicy taste masque how simple it is to make. And, you can make it, toss it into the oven and go about your business of prepping the rest of the dinner without any worry. I suggest serving this along with Palak Channa or Mattar Paneer as the main dish and some Daal Makhani.