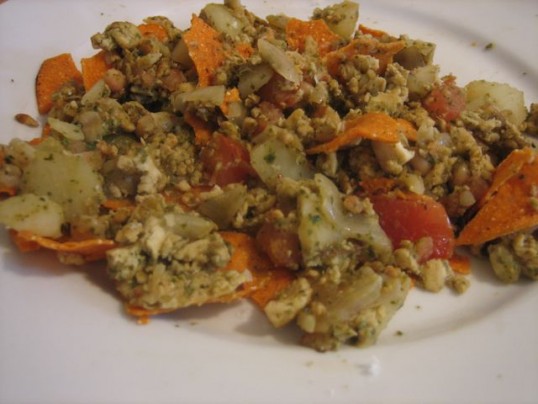 For my third and final Spicy Basil-Mint Pesto dish, I only had about 2 tablespoons of pesto left.  I got a little creative, borrowed some elements from Rajat's tofu scramble and came up with a hearty breakfast of spicy pesto mixed with scrambled tofu, potatoes, onions and tomatoes topped off with chipotle flavored tostada shells.  It made for a healthy, egg free breakfast.  
Spicy Pesto Third Way: Basil-Mint Pesto Tofu Scramble
Grocery:
2-3 tablespoons spicy pesto
1 package tofu
1 yellow onion, diced
Half a beefsteak tomato, diced
1 potato, boiled, peeled and cubed
Half a 28 oz. can white tuscan beans, drained and rinsed
Handful of tostada shells or tortilla chips
1. Heat about a tablespoon of oil in a skillet.  Add the onions and saute until translucent.
2. Squeeze the water out of the tofu.  Use your hands to crumble into small pieces and then add to the skillet and cook until golden.
3. Add the beans and tomatoes and saute until the tomatoes are melted and the beans softened.
4. Add the potatoes.
5. Mix about 1/4 cup water with the pesto and pour over the scramble.  Cook on medium low heat for 2-3 minutes and then serve hot with tostadas.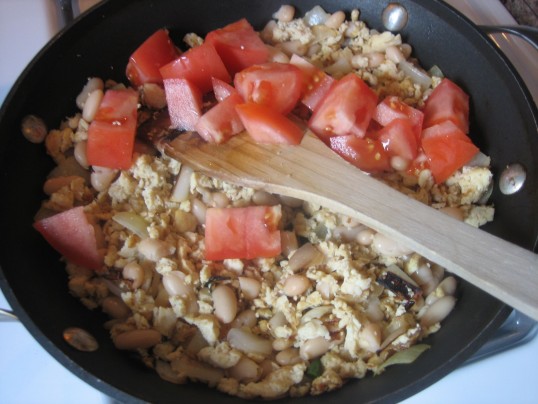 You might be also be interested in this tofu scramble and these other pesto dishes, pesto marinara and pesto bruschetta.