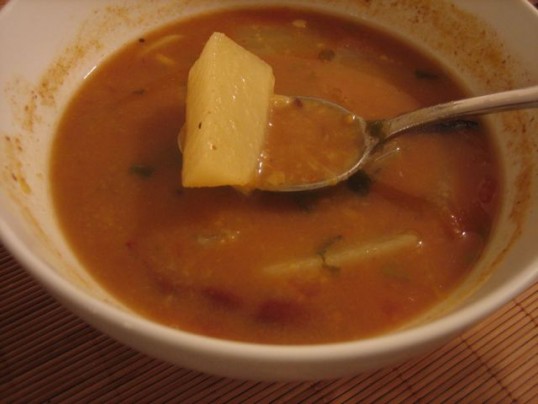 Daikon in Sambar
Sambar is South Indian comfort food. It's a mix of mashed nutty lentils, tomatoes and simple spices finished with the tanginess of tamarind. There are many different varieties and all families seem to have their own tricks.  Regardless, you follow the same essential steps no matter of the type of sambar.  Take a bowl of fresh basmati rice, ladle hot sambar over it and top it off with a splash of buttermilk or yogurt – you'll be left warmed to your core and feeling content.  
Sambar (Spicy Lentil Soup)
~makes about 6 servings~
Grocery:
1 tomato, diced
2-3 cloves garlic, diced
4-5 curry leaves
2-3 dried red chilis
Vegetable*
1 cup toor daal, boiled
~2 tablespoons tamarind paste
Masala Rack:
1 teaspoon mustard seeds
1 teaspoon cumin seeds
1/2 teaspoon methi seeds (optional)
Sambar powder
1. In a medium or large saucepan, heat about 1 tablespoon of cooking oil on medium heat.  Add the mustard seeds and cumin seeds and cook until the mustard seeds pop.
2. Add the garlic, chili peppers and curry leaves and saute until the garlic is golden and the peppers are slightly blackened.
3. Add the tomatoes and cook until the tomatoes melt.
4. Add about 3 -4 cups of water and bring to a boil.
5. Mix in the sambar powder, salt and tamarind paste. 
6. Stir in the vegetables and continue boiling. 
7. When the vegetables are cooked, stir in the daal (you may need to mash it a little with a whisker or spoon).
8. Taste the sambar and adjust the tamarind paste and salt as need.  Sambar gets its sour taste from tamarind, and it should be a little tangy but not mouth puckering sour.
If the sambar is too liquidy, either let it boil longer or remove some of the liquid and whisk a little rice flour in it then add back to the pot.    
**You can choose from a lot of different vegetables for sambar.  Slightly porous veggies that will absorb the stew but hold up in the liquid work best.  My favorite sambar varieties are:
*Pearl onions – use fresh pearl onions although frozen are good too.  Pearl onions are sweet and have an interesting layered texture.
*Daikon – daikon looks like a big white carrot or parsnip.  It  has a mildly sweet, fresh taste to it.  The smell is heavenly.
*Drumsticks – this is a green, tubular looking veggie that comes canned in most Indian stores.  You suck the seed pods out of the inside which I guess makes it like a meaty drumstick.  The tasty is hearty and very savory.
*Other popular veggies include shallots, green bellpeppers, cauliflower, carrots, radish and eggplant.   
Many of you likely read this harrowing article in the New York Times earlier this week about the problem of child hunger in India. For the last three years, Rajat and I have volunteered for the Akshaya Patra Foundation. Akshaya Patra, which means "never-ending bowl" in Sanskrit, feeds nearly 1 million children a day for only $28/child per year across India. Their mission is to eradicate hunger and increase education. The meals are customized by region, and interestingly part of the meal that children in South India eat is sambar and yogurt. We visited their Jaipur kitchen last year, and the scaling and technology is amazing.  The Chapati Queen pictured below can make 10,000 chapatis in an hour!  I'm trying to figure out how I can get one of these (and who will share that many chapatis with me!) .  The Akshaya Patra model is even being studied by other countries because it's considered one of the most effective.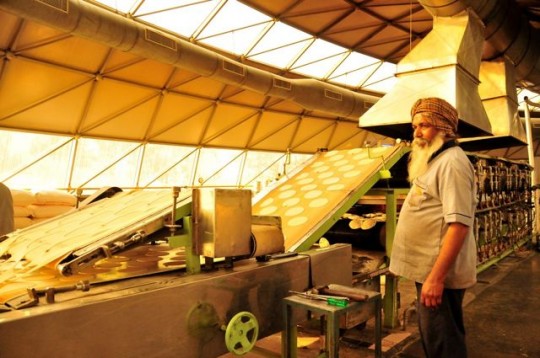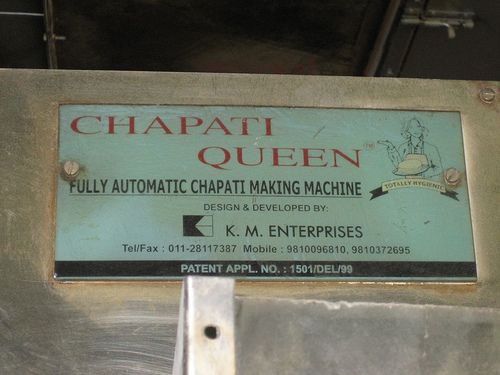 We're having an information session this Thursday, March 19th at 620 Eighth Avenue (btw 40th and 41st) in NY, NY at 6:30 pm.  If you're interested in attending, drop me an email at nithyadas1@gmail.com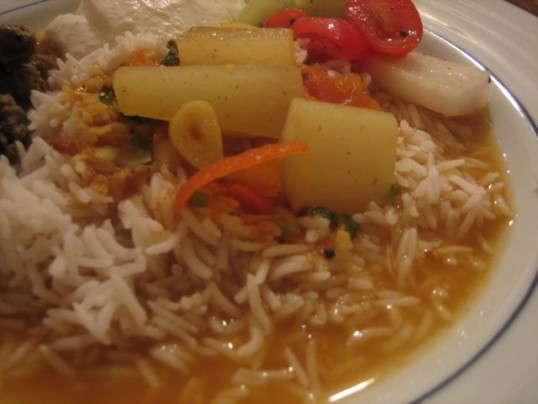 Daikon Sambar with Rice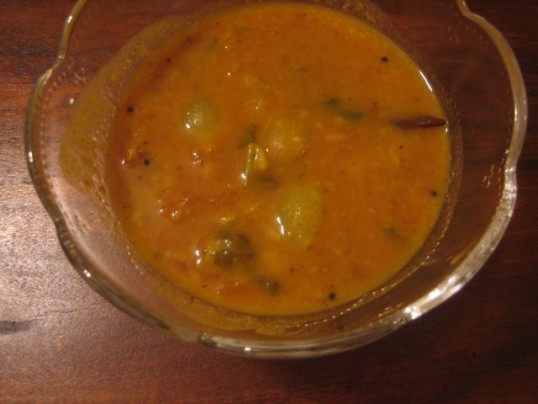 Pearl Onion Sambar