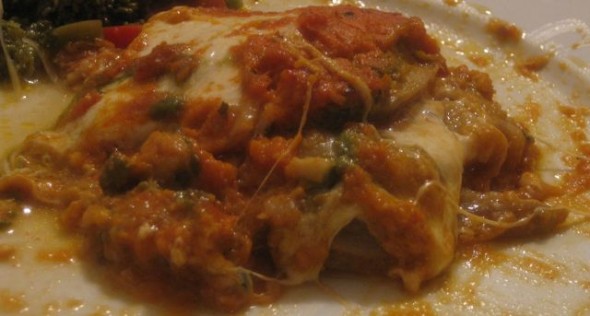 Eggplant parmesan is a childhood favorite of mine.  An oozy combination of cheese embracing fried eggplant wading in pools of tangy tomato sauce.  Growing up, it wasthe perfect break in our daily menu of rasam, yogurt rice and kura…one of the few "American" (i.e. non-Indian) dishes my mom made that even my dad would eat.   Nowadays, at our favorite Italian joints like Piccolo Angolo's in the West Village (where we just celebrated our four year wedding anniversary!), R and I actually have a set rotation of whose turn it is to order the eggplant parmesan.  No joke  – we're hardcore about our eggplant parm…if one can really be "hardcore" about such a thing.
Last month, we had a chance to sample the eggplant parm at DiMare restaurant at the Four Seasons in Papayago, Costa Rica.  It was melt in your mouth delicious and curiously combined pesto sauce and two kinds of cheese.  With some persistent nagging and pleading, we got the chefs, Diego and Nicholas, to give us the recipe.  Unfortunately, it was lacking measurements for most ingredients and a little different from what we remembered eating in the restaurant.  Below is the DiMare recipe as we pieced it together.
Five Star Eggplant Parmesan

Grocery:
2 Italian Eggplants (the big fat ones)
Fresh mozzarella cheese (thinly sliced)*
Fresh parmesan cheese*
6 tomatoes, chopped
2 yellow onions, chopped
7 cloves garlic, diced
3 stalks celery, chopped
1 cup diced carrots
2 cups fresh basil leaves, chopped
2 tbsp. pine nuts
Staples:
~2 cups all purpose flour
Olive oil for frying and for pesto
*I bought a small wedge of parmesan cheese and crumbled it with my hands and a bread knife.  I also used about .9 oz of fresh mozzarella cheese. A key to this recipe is fresh, quality cheese and fresh Napoli sauce.
Getting the Eggplant Ready:
1. Peel and then thinly slice the eggplant.  Spread the slices on a cookie sheet and sprinkle with sea salt.  Leave them for about an hour so the salt "sweats" out of the slices.  Afterwards, pat them dry with a paper towel.
2. Pour 1 cup of the flour onto the center of a plate.  Dredge each eggplant slice in the flour.
3. Heat oil in a deep skillet and fry each slice of eggplant until slightly golden.  After frying, place each slice on a plate covered in a paper towel to help soak up some excess oil.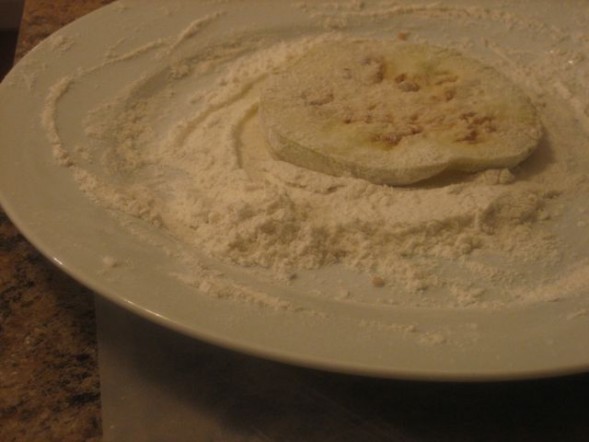 Make the Napoli Sauce:
1. In a tall stockpot, saute the onions, 5 cloves of garlic, carrots and celery for about 20 minutes until the vegetables soften.
2. Add the tomatoes and cook until the tomatoes melt.
3. Let the mixture cool then puree in a blender.
4. Add back to the stockpot and cook on medium/medium low.  Add salt to taste and paprika for coloring. Update: DiMare's recipe calls for cooking the sauce for 3 hours.  We didn't have time for that and cooked it for about 20-30 minutes after blending.  It was still delicious but would benefit from a longer cooking time if you can spare the time.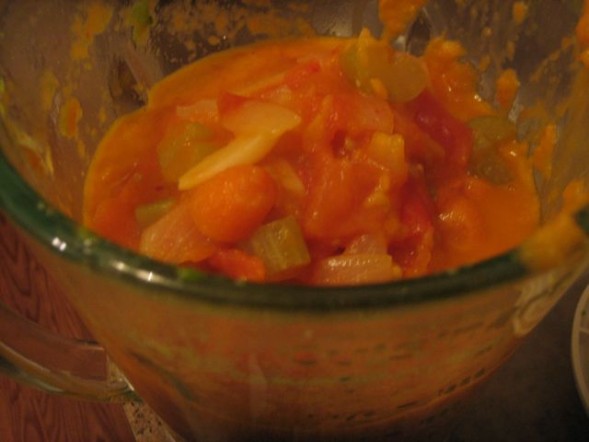 Making the Pesto Sauce:
1. Place the basil leaves, 2 cloves of garlic and pine nuts in a food processor.  Drizzle ~ 1/2 cup olive oil in while the processor runs.  Add 2 tbsp parmesan cheese and run until you have a smooth sauce.
2. Add salt and black pepper to taste.
3. Place the pesto sauce in the fridge until ready to use. Chef Nicholas gave us a tip that you should always make the pesto close to when you're ready to use it – otherwise it takes on a dark, black look rather than vibrant green.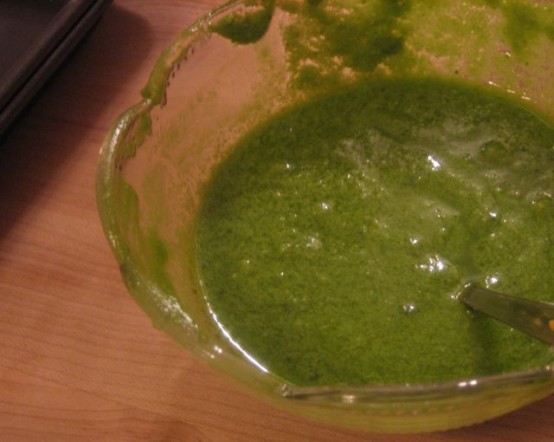 Putting It All Together:
1. Preheat the oven to 350.  Cover the bottom of a large glass pan (mine is 10×13) with napoli sauce.  Stack eggplant slices two on two and cover the pan.
2. Cover the slices with another layer of napoli sauce.  Evenly cover with a layer of mozzarella cheese and a sprinkle of parmesan cheese.  Evenly drizzle the pesto sauce in thin streaks.  This is optional, but we add a gentle shake of crushed pepper.
3. Repeat steps number 1 and 2 until you use all of the eggplant slices and end with step number 2 as the very top.
4. Bake for about 30 minutes until the cheese melts and gets slightly golden and bubbly.
5. Allow to slightly cool then slice and enjoy with crusty bread.
We had our eggplant parm with a side of garlicky broccoli rabe and cherry peppers.  The bitter, sharp bite of broccoli rabe with a spicy pop was the perfect side to cut the cheesy, richness of the eggplant parmesan.  Leftover eggplant parm is also delicious scooped into a crusty hoagie for an eggplant parm sub.