I'm not one who skips meals, and I don't "forget to eat."  In fact, I'm at my all time worst when I'm hungry.  As a warning about my temperment when hungry, my brother, during his speech at our wedding reception, warned R to carry bite size snickers in his pocket lest by some stroke of misfortune I was made to miss a meal.  When my mood is less than my pleasant, my mom's first question is "are you hungry" not "did you have a bad day."  
These tendencies make Karwachauth, a day of the year where married women fast for the health of their husbands from sun rise until they see the moon, particularly challenging for me.  You can read the folklore behind Karwachauth here.  R's family celebrates Karwachauth and so, dutifully albeit happily, I follow along.  R, realizing that fasting is no easy feat for me, kindly fasts with me.
We'll break our fast tonight when we see the moon and after I hear the "Karwachauth story" from R's mom.  Ideally, we would have broken our fast with a nice, home cooked desi meal – creamy, spicy sabji, something with paneer, raita, hot rotis (mmmmm) but cooking dinner for a Friday dinner is made impossible by the billable requirements embraced by law firms. 
Instead, I made almond payasam, similar to North Indian kheer, last night so we'll break our fast together with that and then go out for Mexican…how's that for modern?!
This was the first Indian sweet I've ever made, and it was shockingly simple.  The recipe, as relayed to me by my mom and dad with both of them correcting one another's technique, is provided below.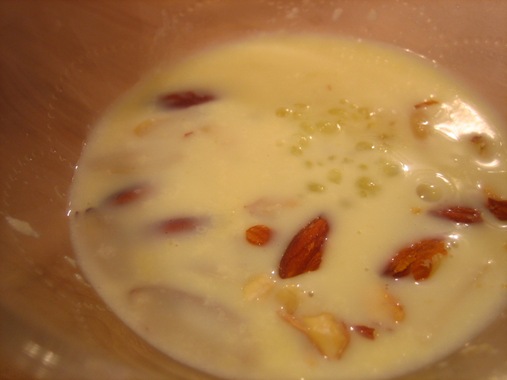 Grocery:
2 percent milk (though you can use whole milk)
5-8 almonds, dry roasted and unsalted (preferably sliced)
1/4 cup sugar
1/2 cup dry tapioca
Masala Rack:
Saffron
Dry roast the tapioca for about five minutes – it should not brown but should just get very hot to the touch.  Separately dry roast the almonds.  Boil the tapioca in 1 1/2 cups water in a nonstick pan until the tapioca pearls become translucent.  Add 2-3 cups of milk, a few strands of saffron and almonds.  Stir in the sugar.  Cook on medium-low heat and bring to a boil.  Continue to cook on medium-low heat for about 15 minutes.  Depending on how much of a sweet tooth you have, you may want to add more sugar.
For those who are vegan or lactose intolerant, you could try this with almond milk which would be a tasty substitute.